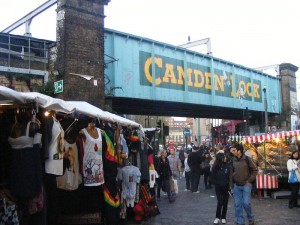 While most of BU was off at spring break, the London Program rolled on with a normal week of classes and internships. Because of this, there is not much traipsing around Europe to write about, so I thought we could take the time to examine a weekend mainstay here in London: markets.
Whereas Boston has an occasional outdoor market in the summertime and all of New York's are exactly the same (do we really need four MozzArepas stands along one block?), each of London's markets has its own flair and unique merchandise, with independent vendors hocking their goods—be they homemade, antique, or of questionable quality—all weekend long. Though I am not as expert a shopper as some others here in London, here are some markets I have visited in my time so far.
Brick Lane is a narrow street in Northeast London. It is known on the weekdays for its absurd number of Indian restaurants, all with people standing out front trying to convince passersby to come in, usually promising special discounts that may or may not exist. However, every Sunday the street fills with artistic designers selling their funky goods. The market is lively, colorful, and bold, with cheap eats around in the form of carts and all-you-can-eat buffets down the block.
Over in the classy section of Notting Hill (of Hugh Grant fame), the famous Portobello Road becomes an antique and vintage-goods haven every Saturday and Sunday. The market goes all the way down the road (through the antique shops district) and ends at a large covered pavilion filled with independent sellers of vintage coats, jackets, dresses, shoes, and accessories, and prices certainly undercut the other vintage stores around the city (Barbour coats can go for just £45). The Market also has a small food section, with some European favorites (German sausages, crepes, etc.) but then one risks spilling mustard onto a recently acquired fur coat.
As my wonderful colleague Deb has already described, Camden is a pretty funky part of town. Tiny shops and vendors are mainstays along Camden High Street for the entire week, as the Camden (aka Buck Street) Market is open seven days and offers outrageously cheap clothes. It is a little like being trapped in a cage of princess-seamed dresses made in Taiwan, but when you can get a pair of boots for £12, it's worth it. Further down the road is a variety of different goods, as the Stables Market offers even more vintage clothes (vintage is inescapable), and the Lock Market contains quirky, crafty odds and ends.
Okay, I know what you're thinking. "Joel, where is all the food? We don't care what you have to say about vintage clothes!" And it is with this point, dear reader, that I wholeheartedly agree. That is why I saved the very best for last—the Borough Market. Located along the south bank of the Thames (close to the Tate Modern museum and Globe Theatre), the Borough Market is a bustling culinary thoroughfare. Its mostly indoors, with a tremendous glass ceiling that traps in the aromas from all the great cooking around. Roast beef sandwiches, seafood rolls, and duck confit are just a few treats found here (all reasonably priced), as well as fresh fish, meat, poultry, vegetables, and microbrews from around the UK. Because of its small size, Borough Market does get very crowded on weekends, but it's worth battling for some of the most authentic food in London.