According to a statement from the NFL on Wednesday, March 21, 2012, New Orleans Saints coach Sean Payton was suspended for the season, without pay, because of his role in the team's bounty program in which defensive players were awarded for their performance on the field.
In addition, former Saints defensive coordinator Gregg Williams has been suspended for at least a year, general manager Mickey Loomis for the first eight games of the season, and assistant head coach Joe Vitt for the first six games of next season. The organization will also have to give up second round draft picks in the 2012 and 2013 drafts, along with paying a $500,000 fine.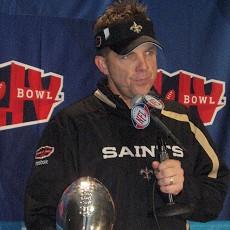 The program came to light this year in early March; an announcement of initial findings was followed by further investigation. Players primarily funded the program, initiated in 2009 by Williams, through cash donations and fines for mental errors during games. For the next three seasons, players were rewarded for interceptions and fumble recoveries, but also for injuring opposing players.
According to a report on the investigation released by the NFL, there were specific inquiries into games involving players Brett Favre, Cam Newton, Aaron Rodgers and Kurt Warner. In addition, Saints captain and linebacker Jonathan Vilma put a $10,000 reward for whoever could knock Brett Favre out of the 2010 NFC Championship game. The Saints won said game and were crowned Super Bowl champions.
Although the penalty appears to be harsh, it does appear to be inline with the NFL's stance on player safety. Recently, the league has cracked down on wild plays that could cause injuries, like concussions, and commissioner Roger Goodell reflected that sentiment in the league's official statement, noting that they are responsible for player safety and health.
"Beyond the clear and continuing violations of league rules, and lying to investigators, the bounty program is squarely contrary to the league's most important initiatives – enhancing player health and safety and protecting the integrity of the game," Commissioner Goodell said, in the statement. "Let me be clear. There is no place in the NFL for deliberately seeking to injure another player, let alone offering a reward for doing so. Any form of bounty is incompatible with our commitment to create a culture of sportsmanship, fairness and safety. Programs of this kind have no place in our game, and we are determined that bounties will no longer be a part of the NFL."
Although this scandal has handicapped a possible Super Bowl contender, the league is clear and strong on their decisions.