It was 7:59 a.m. I held my breath, waiting. Sixty seconds later, I clicked the link furiously. In a second the page would load, and I would only have a minute, maybe two, to type in my name, my address and my credit card number. I was even ready to copy and paste my BU ID so I wouldn't waste time double checking the numbers. I nervously waited for the page to load. I waited some more. And some more. It didn't load.
Two hours of refreshing the same page later, and still nothing. The server had crashed; registration was rescheduled. At 7 p.m., I tried again. When the page finally loaded I panicked, first typing my address in the wrong space. One click and it was over: I'd just booked a trip to Stone Mountain, Georgia, with Boston University Community Service Center's Alternative Spring Breaks.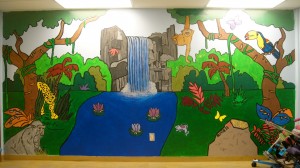 This year, the ASB program gave almost 400 students the opportunity to volunteer over their spring break with 37 different organizations across the country. While some may prefer to spend break relaxing on a beach, the chaos that surrounded registering this year shows there were a tremendous number of BU students interested in spending their break volunteering.
I chose to go to Georgia because I'd never been down south (and because who doesn't love Ray Charles' Georgia On My Mind?), but I'll admit I wasn't thrilled when I found out that I had landed an all-girls trip. However, after almost 1,100 miles of driving, it became clear it was a blessing our van was filled with eleven girls; I'm not sure how many guys would have survived all the Britney Spears, Glee, Beyoncé, Disney and Lady Gaga that we listened to on the drive to Stone Mountain.
When we finally arrived at our home for the week, the First Baptist Church of Tucker, all of the members of the church we met were overly welcoming. Their cook, Miss Ann, even left us a gigantic tray of cupcakes. Our only unpleasant encounter during our entire stay was with an elderly man who, for some reason, wasn't too pleased to discover that girls were changing in both of the men's bathrooms early one morning.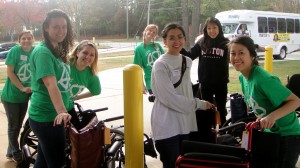 During the week, my group and I volunteered at Friends of Disabled Adults and Children, a company that provides people with medical equipment at little to no cost. Since 1986, FODAC has distributed over 27,000 wheelchairs to people in need.
At FODAC, our group helped sort items in their warehouse to determine which supplies could be sent to local free health clinics and which could be sent abroad. We also completely reorganized a storage closet, planted flowers outside their building, researched on the Internet to help with their volunteer outreach and put away items in their thrift store.
The dedication of the FODAC staff motivated us to work our hardest. Many staff members had some type of disability, and it was inspirational to see how they didn't let their disability affect their performance in day-to-day life as they strived to help others in need.
"It is really eye-opening when you see people who don't have the same things we do, but they are living life just as much to the fullest as we can," said volunteer Kristen Newman (SAR '14).
We saw a different side of the spectrum when we served dinner at the First Baptist Church to people whose disabilities were more severe, and thus they could not live as active lives. Observing the range and extent to which disabilities can affect one's life gave more meaning to our volunteer work with FODAC.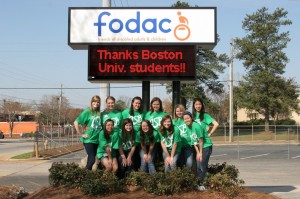 However, working at FODAC never seemed like work; we were constantly overwhelmed by the hospitality. We were well fed by Miss Joyce, who made us sandwiches the size of our faces, lasagna oozing with cheese and hot dogs with chili, and other staff members arrived to work early one morning to make us breakfast. One worker even gave us his number in case we got lost in the wrong part of Atlanta and needed help (thankfully, we never needed to call him).
"Everybody we met here has been incredible. We all talk about southern hospitality and how they've all shown it to us," said Francesca Coveno (CAS '15).
If only Boston embraced the same kind of southern hospitality we received from everyone we met in Stone Mountain. When we went bowling one night, the manager unexpectedly treated our group to free bumper cars and balladium—a game that involves shooting foam balls at targets. We had dinner at Matthews Cafeteria, a restaurant featured on Food Network's Diners, Drive-Ins and Dives, to get our first real fix of southern food, and we were given free hush puppies.
We felt at home on our last day in Georgia when we visited Stone Mountain Park and ran into someone we knew: Chris Brand, president and CEO of FODAC. After braving a ropes course, we hiked in 80-degree heat to the top of Stone Mountain, the largest exposed mass of granite in the world. At 1,683 feet above sea level, we looked out at the city that had been our home for a week, wondering why, Georgia, why, did we have to be going home so soon.
Check out the Community Service Center's website and individual ASB trip blogs for more information on ASB. To learn more about FODAC, click here.