In the early morning hours of March 11, Staff Sergeant Robert Bales walked off his combat outpost in rural Afghanistan and allegedly murdered 17 people, assaulting six more. He was formally charged on Friday and is currently being held in a military prison in Fort Leavenworth, Kansas.
News reports have mentioned the fact that he was on his fourth deployment since joining the Army after 9/11, that his family home was in disrepair due to financial difficulties, and that the day before Bales' alleged crimes, one of his friends was gravely injured during combat. However, since the wars in Iraq and Afghanistan began, the stress of repeated deployments, financial difficulty, and loss of life and limb are unfortunately commonplace. Why did this man, out of the thousands of soldiers dealing with similar problems, react to the stress of combat with violence directed at innocent people?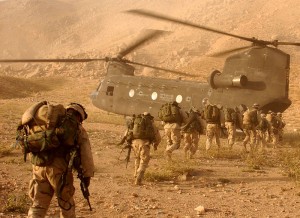 It is unlikely that incidents like this can be wholly explained by accrediting their perpetrators with a "violent nature." Besides the fact that up to this point, Staff Sgt. Bales was a well- respected soldier and citizen, there is evidence that extreme violence in the context of war does not come naturally to humans. Throughout human history, across cultures, there have been different rites and initiation ceremonies to prepare soldiers for war. In old Scandinavian cultures, soldiers worked themselves into a berserk state, leaving their humanity behind before heading into warfare. In a similar vein, Tahitian warriors were beaten with sticks and told to imitate the ferociousness of wild dogs. Alcohol and sex are also time-honored ways of blunting the stresses of combat; Yanomamo Indians, for example, ingest hallucinogens before battle.
In 1947, S.L.A. Marshall wrote a book entitled Men Against Fire in which he claimed that during World War II, in a squad of 10 men, only 3 men would fire when called upon to do so. He conducted similar research during the Vietnam War and concluded that close to 100% of soldiers were now firing their weapons. His results were questioned as later generations looked over his results, but the basic contention—that a significant percentage of soldiers do not fire when called upon—remained.
This is not surprising, as people within the American culture are taught that hurting another person is wrong, and that killing another is the worst crime of all. It would be bizarre if a lifetime of training could be overcome by even a few years of military training. The mental trauma caused by war has gone by several names over the years, including soldier's heart and shell shock. Now, "adverse reactions" that soldiers experience due to combat are grouped together under the term Combat and Operational Stress Reaction, or COSR. These range from coping mechanisms to "misconduct stress behaviors" like Bales' crimes.
Are events like this preventable? Needless to say, the military has a vested interest in treating the injuries of their soldiers, mental injuries or otherwise. Soldiers experience screenings and mental health training before deployment as well as after, and the Department of Veteran's Affairs (DVA) has extensive mental health and suicide prevention programs. And although the military has sponsored medical marvels, the treatment of mental injuries is just now beginning to catch up.
A report released in 2007 by a Department of Defense (DOD) Task Force found the services offered by the military to fall behind the demonstrated need, due first and foremost to lack of funding and trained personnel. It recommended reducing the stigma attached to mental health problems, as well as increasing the breadth and depth of resources so that more soldiers could take advantage of care. A report released in 2011 by a Joint Mental Health Advisory Team found that the acute stress rates of soldiers in Afghanistan were higher than in 2009, but that rates of "suicide ideation" and troop morale levels were unchanged. The risk factors mentioned included exposure to combat and multiple deployments. They concluded that the stigma associated with Behavioral Health had not changed significantly since 2009, but that training adequacy for suicide and stress was significantly higher than in 2009.
The actions of Staff Sgt. Bales are a tragedy, not only for the families that must now recover from the brutal murder of their loved ones, but also for his family and for the soldiers currently serving in the American military. Atrocities like this crucially undermine the mission of Americans serving in Afghanistan. Clearly, mental trauma can be ruinous to a soldier's own life, the lives of his fellow soldiers, and the lives of the people around him, not to mention the overarching mission. The argument can be made that atrocities are indivisible from war–that some are inevitable. But it is the duty of the military and the civilian sector to make the treatment of mental trauma as much of a priority as the treatment of physical injury. Until then, soldiers with trauma will continue to slip through the cracks, and the door will remain open for atrocities such as this to occur.