Boom! Wham! Pow! The ComiQuad is a column dedicated to the spandex-laden world of comics and superheroes. It goes up each Tuesday and will alternate between comic book reviews and other comic book news. Reviews shall try to be spoiler-free. Zam!
Dorothy of Oz Prequel #1 (Advance Review)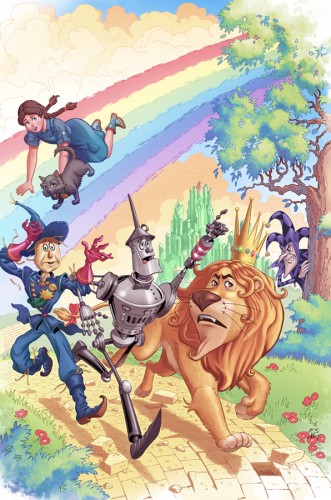 When the original Wonderful Wizard of Oz story was told in the 1900 children's novel, few could have expected the success it would continue to have over a decade later. The book turned into an iconic movie, which gave birth to the famous prequel novel Wicked, which then led to the eponymous hit musical. Now the famous story will experience another adaptation in the form of Dorothy of Oz, an August 2012 movie set after the events of the main story.
This comic is the prequel to the original story's upcoming movie sequel. With such a thick history of competition, does Dorothy of Oz Prequel #1 stand out?
Yes and no.
The comic book, across its 22 pages, does not move far in terms of story. It spends most of its time hanging out with the comic/movie's antagonist who engages in a relatively uninteresting monologue for most of the time. All the reader learns is that he's evil, that he does bad things and that most of his humor comes from him acting like he's four.
The other primary characters, Scarecrow, Tinman and Lion, are much more interesting. In the aftermath of their original romp with Dorothy, Scarecrow has a high-tech brain, Tinman has all these emotions he doesn't know how to cope with and the Lion is now utterly fearless. Their interactions are entertaining for both older and younger readers. Unfortunately, the trio does not get most of the limelight.
The comic's artwork is the impressive strength of the book. It accurately fits the animation style of the upcoming movie, and Blair Shedd knows how to draw characters in a way that's simple and emotive enough to engage child readers.
The story has potential, but it needs to advance faster and focus less on physical comedy that doesn't translate best on page. If it can accomplish this in the next installment, it will prove that it's more than just another movie-promotion comic.
Review 6.5/10
Birds of Prey #7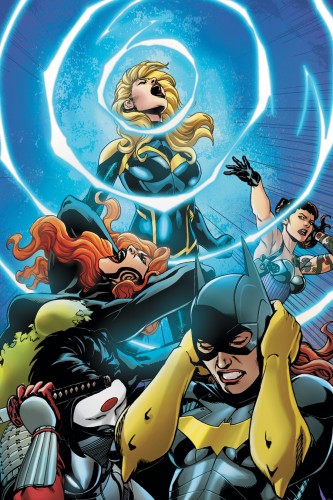 The solicitation for this issue of Birds of Prey promised violence, action and a lot of in-fighting. Not only did the solicitation manage to deliver on its promises, but the comic also managed to squeeze some meaningful characterization in as well. Action and characterization all in one comic? Madness.
Amidst a massive brawl between the Birds of Prey ladies and a horde of mind-controlled office workers, the moral standings of each heroine come to a head. Vastly different ideologies muddle the definitions of "hero" and "villain" for the entire team. The hasty decision of one team member may have led to the slaying of an innocent.
The story, which is short, yet sweet, is illustrated magnificently by Jesus Saiz. Poison Ivy's snarling rage at Black Canary, the office-floor brawl and a striking page featuring Katana are memorable long past first read.
Primary criticism stems from a team interaction near the end of the book. For some reason, both Starling and Katana's dialogue feels cliche.
Review 8.5/10
Hellraiser #12 (Advance Review)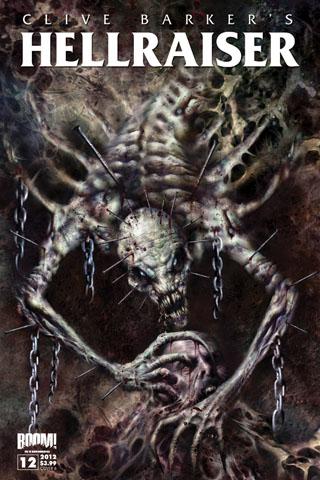 If the aforementioned emotional Tinman were to read this comic book, I'm fairly certain that he'd hightail it back to the Emerald City and give his emotions back.
The art literally bleeding through the pages of this comic is visceral. Each and every page is oozing, bubbling and curdling with finely detailed yet horrific imagery. Rupturing wounds, skittering beetles and the careful drapery of blood-engorged corpses are just a small selection of the vile visuals strewn throughout the comic.
There's no denying that the art is brilliantly handled and quite evocative. It's so evocative that one's gastric juices will even be moved.
Diving into the comic during issue #12 is definitely harmful to the review since I still have very little idea of what's going on. The confusion, however, does not appear to be the type of confusion that's attributed to not a reading a series. It feels intentional, especially when it coincides with the utterly disorienting imagery.
The characters, every single one of them, are terrifying. There is a difference, however, between which characters are the sympathetic terrifying or unsympathetic terrifying. It's unsettling trying to figure out where that line is drawn.
Based off of the art quality, the comic (and presumably its earlier issues) is a must-own for fans of the horror genre. For those who do not seek to revisit lunch, however, may opt out. Regardless, Hellraiser #12 is a fascinating read.
Review 8/10