At this weekend's Boston Comic Con, The Quad was fortunate enough to have the opportunity to interview nine different comic book creators in a rapid-fire fashion. The first installment's interviews include artists Cliff Chiang, Renae De Liz, Ivan Reis, Joe Prado, and Agnes Garbowska.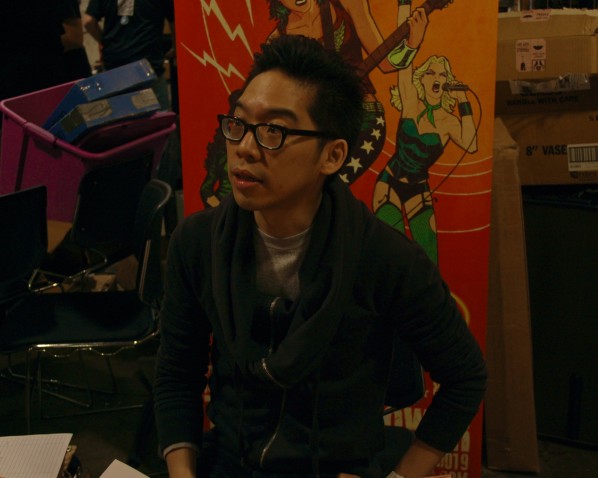 Cliff Chiang is currently the lead illustrator on DC Comics' Wonder Woman series. Other illustrated works include Human Target, Green Arrow/Black Canary, and Beware the Creeper. In this interview, he discusses the redesign of Wonder Woman and the Greek gods in her mythology.
The Quad: How does it feel to be a part of the team to bring Wonder Woman to her highest sales in a very long time?
Cliff Chiang: It's rewarding. I think, you know, we were taking a little bit of a creative gamble with it and it's really great to see the response we're having.
Who are your favorite god redesigns?
CC: Favorites? We've got a few coming up that are really great. Personally, some of the simpler ones even. For personality reasons, I liked Eros. I liked drawing Eros a lot. Hermes is really great and Strife.
Which of the gods coming up are you most excited for us to see?
CC: Hm. Artemis.
In the whole Wonder Woman "pants vs. no pants" debate, were there ever any other options considered?
CC: There might have been; I don't really know about it. Jim Lee designed the costume, so it came down to us as pants when it first started and then like a month later it was like "oh nope, no pants." So it was actually better, in terms of practicality. The outfit is not really, you know, practical to begin with so I'm kinda pants-agnostic, but design-wise, I thought it was a little bit too dark from the waist down with the black.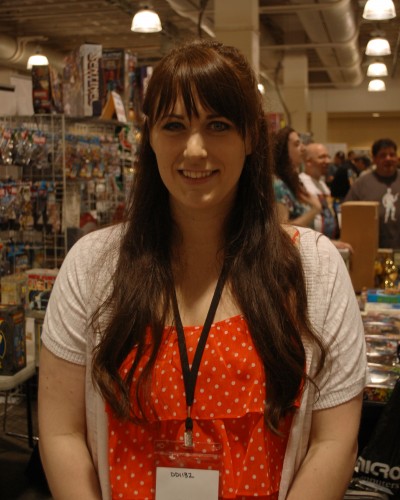 Renae De Liz is a comic illustrator, writer, and the creator of the acclaimed "Womanthology" project. Womanthology started as a hugely successful Kickstarter project that pooled the talent of female comic book creators into an anthology and has launched into an upcoming on-going series titled Womanthology: Space. Her illustration work includes The Last Unicorn, Servant of the Bones, and Music Box.
How did the first idea for "Space" come about?
RDL: Mariah [Huehner], she's the editor for Womanthology: Space and Womanthology and she actually thought of Heroic too. She's just really good at themes and she was like, "You know what's really cool? Space." And [Space] not technically feminine, it's very open.
Any ideas kicking around for what comes after Space?
RDL: I'm not sure, it depends on how well Space goes. I have no expectations, I'm going to have a good time with it and going to enjoy the road. But we have other themes in line.
What was the inspiration behind Lady Powerpunch?
RDL: I've actually been thinking about her for a while and I just wanted to do a real-sized superheroine and just make her cool and make her kick butt. I'm having her try and fit in with people who aren't normally fat [laughs]. She has her style, she has her voice, so yeah. This was an opportunity to actually draw some pages for it. I've been thinking about it for years.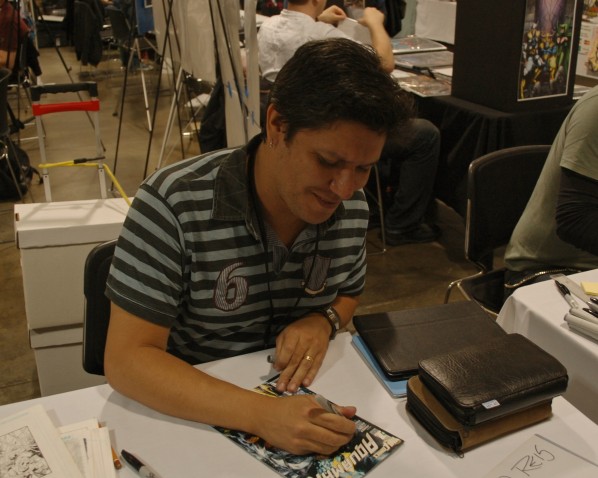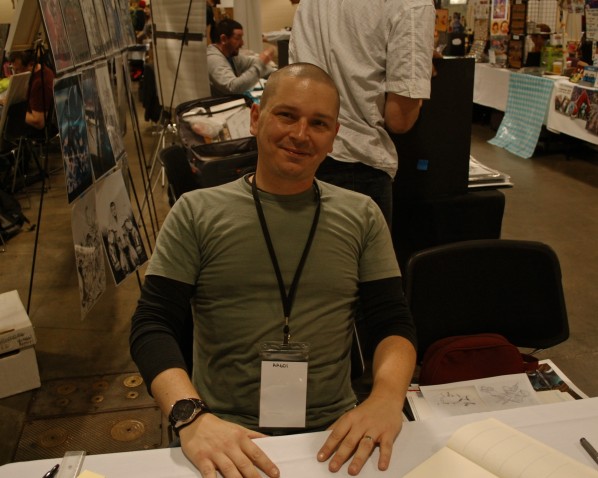 Ivan Reis and Joe Prado are the current creative artist team behind DC Comics' Aquaman series. Reis, the book's penciler, has worked on Captain America, Green Lantern: Blackest Night, and Green Lantern: Brightest Day. Prado, the book's inker, has worked on the Battlestar Galactica comic and alongside Reis on Blackest Night and Brightest Day.
Have you always been a fan of Aquaman?
Ivan Reis: Of course! I watched the eh—
Reis turns to Joe Prado.
IR: —Superamigos in English?
Joe Prado: Superfriends! We all used to watch Superfriends, you know, you guys weren't even born! [laughs] We were kids!
IR: Yeah, we were kids. [laughs]
JP: Then there was the Aquaman cartoon as well. With the seahorse! [laughs].
IR: Yeah, joining Aquaman (the series) was my choice.
Who do you like drawing more, Aquaman or Mera?
IR: Both of them. Yeah. It's a different way of drawing. Mera's more strong to draw and more wild and Aquaman is more elegant, more free. It's a different based drawing, I like to draw both of them.
Who is your favorite "Other League" member to draw?
IR: I like the Vostok and the Seer, Kahina.
Between Mera and Aquaman, who is your favorite to ink?
JP: To ink? I like them both, you know. For different reasons. Aquaman's very regal and stuff, and Mera, for me, is like the embodiment of women's powers, you know. She's regal, she's strong, and that's cool. And she has great hair [laughs].
How does it feel that Aquaman beat all of Marvel's properties in sales for two months?
JP: I think it rocks! Come on! [laughs]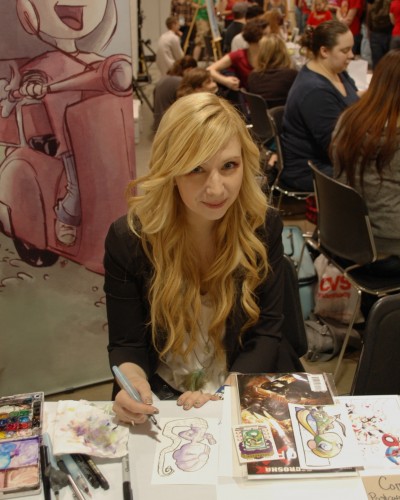 Agnes Garbowska is a freelance illustrator who has worked for Marvel with Girl Comics and Spider-Ham 25th Anniversary Special. She recently self-published an all-ages book titled You, Me, and Zombie.
A common criticism of the comic book industry is that there's not enough stuff geared towards kids. What are your thoughts?
Agnes Garbowska: I agree completely. I don't know, I think companies think they'll make their money off of adults with a lot of comic books geared towards adults, but I think there's a huge market for kids. For example, there's Tiny Titans, or Skottie Young's Marvelous Land of Oz and those are big hits so I don't know why they don't sell more of that. And they really should be.
What inspired you to create You, Me, and Zombie?
AG: My dogs and zombies. And it totally scares when I say my dogs and zombies, but my characters are based off of my two dogs, Olive and Otis, and I've always loved zombies. But the problem is when you're a little kid and you love zombies, there's not a lot for you, so I really wanted to make a story that was for kids and it had my favorite thing: zombies. And You, Me, and Zombie came out of that.
Would you like to see Spider-Ham return to comics?
AG: He's so cute. Sorry, he's an adult character but he's just so cute, so hell yeah!
Stay tuned for continued coverage on Boston Comic Con! There will be a ComiQuad opinion piece on Tuesday; Rapid-Fire Creator Interviews, Part 2 on Wednesday; and a Panel Overview on The Quad's upcoming issue on Monday!
The second installment of creator interviews will feature artists Jill Thompson, Kevin Maguire, Stephanie Buscema, and Skottie Young.