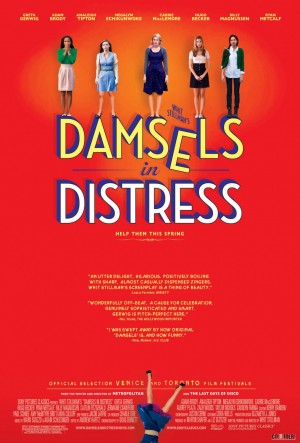 Whit Stillman certainly keeps up the trend of deadpan heroines in his newest film Damsels in Distress. The eccentric comedy, set on the grounds of a college campus, is anything but conventional. Greta Gerwig stars as Violet, a neurotic college student who, along with her three like-minded friends (Carrie MacLemore, Megalyn Echikunwoke, and Analeigh Tipton), aims to educate the ignorant members of the male species on campus.
In true Whit Stillman style, the characters found within this world are not relatable at face value: they speak as if they were from the early 20th century and are accompanied by a soundtrack that could have been taken from Sandra Dee's personal collection. From the characters' interactions with the "Romans" (Stillman's version of "Greek" life), to tap dancing as a form of suicide prevention, Stillman satirizes college life in a way that is simultaneously dramatic and poker-faced. Underneath the surface, however, he attempts to address important issues of personal identity, group dynamics, and happiness.
While it does have its moments of cinematic harmony, the film is driven by snappy dialogue as opposed to visuals. The dialogue is a little too dry at times, but effectively delivered. Stillman can be commended on having created a set of characters that are both caricatures and are all flawed in very believable ways.
The film's deadpan nature is brought out in its pacing, which begins to feel monotonous beyond a certain point. The characters might come off as being a little too blasé even at climatic points which is only underlined by the lack of attention to certain subplots and character arcs within the story. While this might be a part of the movie's intentions, it is hard for a certain type of audience to accept.
All the same, the leads, Gerwig, MacLemore, Echikunwoke, and Tipton deliver believable, humorous performances punctuated by moments of true wit which had the whole theatre in splits. While I wasn't exactly raving on exit, I could appreciate Stillman's refreshingly absurd portrayal of an environment that has been stereotyped in films one time too many.