This year's weather has not been what one could call "consistent." After a scorching fall punctuated by a random snowstorm and a long winter of mid-40s temperatures, Boston is finally ready for a mild and pleasant spring. Unfortunately, Mother Nature has decided to throw a couple of final curve-balls before summer hits. Though Boston has enjoyed a few perfect 70-degree days, the past week or two has been marred by cooler temperatures, high winds, and rain. What is one to do when getting dressed in such uncertain times? The Quad has the answers.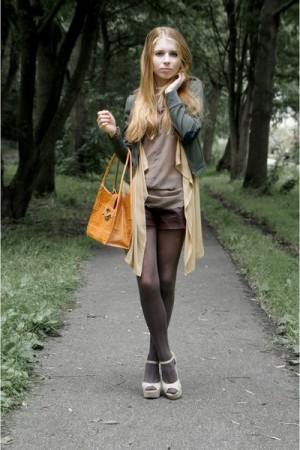 1. Layer Up!
Layering is never more important (or fun!) than during the transitional seasons. Donning multiple garments will serve as protection from the elements, but also allow for cooling off when a random heat wave comes through. Start with a simple foundation: a slip dress, jeans and a tee, or a simple blouse. Then add a warm layer with a sweater or scarf (they haven't exhausted their use quite yet). Adding a light jacket further insulates the outfit without sacrificing style or versatility; the Quad recommends denim or utility jackets for a perfect amount of warmth and light weight. Accessorize with tights, jewelry, and some killer shoes, and hit the town.
2. On your feet
Deciding what shoes to wear is tricky when the weather is so unsure. Rain could hit at any time, but a sudden burst of warmth is equally likely. Now is the time to retire fuzzy and suede options (although suede is having a moment right now–reserve that skin for positively sunny days, or protect them with a waterproofing spray) and opt for more versatile fare. Don't jump the gun, however, and spring right for sandals, since it's still a bit too cold for them. This is a perfect time to get the last bit of use out of the booties and other closed-toe options available: oxfords, lace-up ankle boots, cool kicks, and pumps are just right this time of year, because they protect the foot from wetness while avoiding suffocating your legs in excessive warmth.
3. Indulge in spring colors
It might be too cold now to wear the springy sundresses that April and May evoke in memories, but that's no reason to sacrifice seasonal fashion. Pastels like mint and lavender are incredibly hot right now, and many stores are stocking them in a variety of cuts and fabrics. Florals, another spring staple, are also quite versatile, and look just as good layered with warmer fabrics as they do with bare skin. Why not don a piece in a striking pastel and layer it up with a leather or utility jacket? Or pairing a floral sundress with a nubby sweater? Celebrating the season is not limited to those beautiful breezy days.
Ideal weather is hopefully right around the corner, but as long as nature continues to be fickle, following these tips for transitional dressing will preserve warmth and comfort while celebrating the season.