Most students know that Boston University's Information Services and Technology Department is where to go when faced with a broken laptop or issues with the campus Wi-Fi. Far fewer know about the other resources that IS&T offers to students and faculty. There's no reason to blame students for this lack of information, however. The IS&T website is a veritable maze of menus and links, many of which are of no use to the average student. Among these, with some careful searching, there are some useful resources to uncover.
One of the most useful resources that IS&T offers is their free training courses in a variety of computing topics. As a college student who loves free things (and what college student doesn't?), I attended a training session to get a better understanding of what IS&T really has to offer.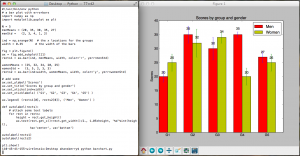 The course I took was on Scientific Python and taught participants how to use computers to graph and understand data. The class was mostly filled with older students conducting research and looking for a way to present their findings. If your needs are less specific, IS&T offers a variety of basic programming courses in languages like Python, C, R and MATLAB. Students in science or math classes who need to use these languages but are finding it difficult can certainly benefit from these training sessions. Even if you have no interest in programming, IS&T holds training on using WordPress to make a personal website and how to use graphics to create more compelling presentations. The schedule varies by season and by year, but classes are offered frequently.
All courses are free for all students; all you need to do is login with your BU username and password to register. The classes are taught by members of BU's IS&T department and tend to be small in size. The Scientific Python course, for example, was taught by a senior scientific programmer in the department who uses the skills regularly for his own research.
For people with some basic computer knowledge but no experience with programming, the training courses offer a useful, but brief introduction. If you are curious whether computers are for you, a training session can be a minimal commitment way to find out. If you have any programming experience, however, you'll likely find the courses too slow for your liking. That's okay though, because IS&T offers a variety of online tutorials that teach much of the same material as the training sessions. With the information online, you can skip the class and learn at your own pace.
In addition to its training, IS&T offers a variety of other online resources that are easy to use on your own. In the "Websites" section of the website, you can find information about how to make an ePortfolio, WordPress blog or personal website, all of which are hosted by the university and available to all students for free. Under "Safe Computing," there is information about how to protect your computer from viruses and a link to register your laptop with the BU Police, which can help you recover your laptop if it's stolen. For those with some computer savvy, you can also find out about how to remotely access a variety of software licensed by the University on the "Site-Licensed Software" page.
Don't dismiss IS&T as a bunch of computer fixing wizards. IS&T offers much more than just tech support services. If you're looking to learn some new skills, present your research or even just boost your resumé, IS&T training courses, as well as their online information, are certainly worth a look.