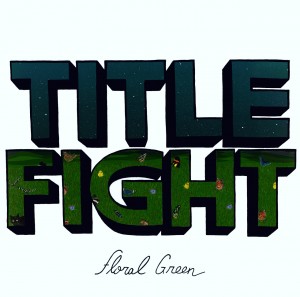 It's taken me a long time to understand the appeal of Title Fight. They've always garnered a ton of praise and thanks to the often hype-driven world of punk, I've heard a ton about them. I tried to jump on the Title Fight train last year with the release of Shed, but it didn't stick. I could see the appeal of their hardcore-meets-pop style, but I wasn't exactly rushing to throw that record on every day. The music was good, I suppose, but it also felt incredibly boring.
Thankfully, they changed it up for Floral Green, their second record. They've finally branched beyond solely producing songs that sound like a hardcore, pop-punk blend. Instead, they've combined a whole litany of influences, from the two aforementioned genres to '90s indie and shoegaze, into a cohesive, incredibly enjoyable sound.
One needn't to look any further than "Head in the Ceiling Fan," the album's first single, to see these changes. Led by slow molasses-like chord progressions, a fuzzy guitar lead and some incredibly nonspecific lyrics, the song wouldn't sound out of place on one of Hum's albums. And yet, here it is on an album by Title Fight. "Head in the Ceiling Fan" isn't the only track that sounds like a total break from the band's traditional style–"Lefty" goes after the same punk-meets-shoegaze sound, and the funky album closer "In-Between" has the same disaffected vocal style that bore so many slacker indie heroes in the '90s. And these songs don't sound like experiments either; they're all enjoyable, fully formed tracks. I'd like to see another whole album of this caliber.
Of course, this isn't to say that there aren't any songs reminiscent of 2011 Title Fight on the whole release. Far from it, actually. The traditional melodic hardcore sound that made the band's name initially still dominates the album. There are also plenty of lyrics which are destined to be Tumblr re-blogs ("I talk but no one listens/Can't make my own decisions" anybody?). But where on Shed I could barely tell one song from the other, here they've managed to create truly unique hardcore-meets-pop jams. "Leaf" has a whining, bending guitar lead that differentiates it from every other song on the album. The interplay between scratched power chords and picked open chords on "Frown" vaguely recalls Dinosaur Jr. at their most melodic. And "Secret Society" is probably the best pure Title Fight song that the band has ever done–it's driving, it's catchy, and of course, it's dripping with the kind of teen angst to which anyone can relate.
Title Fight are not entirely unique with their successful melding of punk with other styles. They aren't the first band to blend styles, and they certainly won't be the last. Along with contemporaries like The Menzingers, Touche Amore, and others, they are the vanguard of punk bands slowly but surely breaking into the mainstream. Floral Green may not be a reinvention of punk, but it's certainly an affirmation of the genre's current greatness and urges a listen.
To get a head start on this whole punk rock thing, feel free to check out Title Fight at the Sinclair (that new venue in Cambridge) on November 27. They're playing with fellow fantastic bands Pianos Become the Teeth and Single Mothers.