It's that time of year again. The time when Starbucks pulls out its Pumpkin Spice Latte, when the leaves start changing colors, when talk of Halloween parties and costumes begins to come to the forefronts of our brains.
Yes, my friends, it is now officially fall and will soon be October. One of my favorite parts of fall weather is eating pumpkin-flavored things without feeling guilty like I do when it's the middle of July. I love pumpkin so much that I would eat it year-round if I could. Too bad it's not available in stores until September…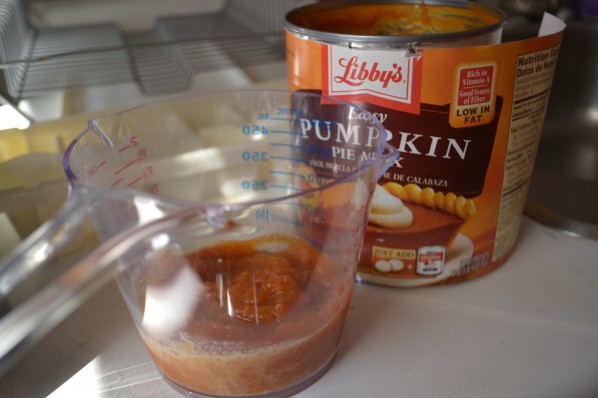 But I should not feel guilty about incessantly eating pumpkin. As I learned in my Intro to Nutrition course last semester with Professor Salge-Blake (I highly recommend it), pumpkin, along with many other orange-colored vegetables, is a great source of Vitamin A. It also contains cholesterol-lowering antioxidants.
According to www.nutrition-and-you.com, pumpkin is one of the most popular field crops cultivated in the world. One cup of canned pumpkin has 1,906 RAE (retinol activity equivalents), which is the most usable form of Vitamin A.
Vitamin A is great for clearing up that pesky acne or keeping your eyes healthy, and the antioxidants keep away free radicals, which are created during exercise. Free radicals can damage the cells of the body and possibly contribute to the development of chronic diseases. (These are some of the great facts you can learn in Intro to Nutrition–just saying.)
While all those facts are fine and dandy, I am more concerned with the delicious attributes of things that taste like my mom's homemade pumpkin pie. Therefore, in this first rendition of Ingredient of the Week, I felt it was appropriate to start with a seasonal touch.
So, without further ado, I present you with the perfect way to have pumpkin for breakfast, lunch, and dinner. Of course eating all three recipes in the same day is not necessary, but if you're completely smitten with pumpkin like me, I would recommend buying a double-size can of pumpkin purée and using every last bit of it for the following recipes.
Happy Fall!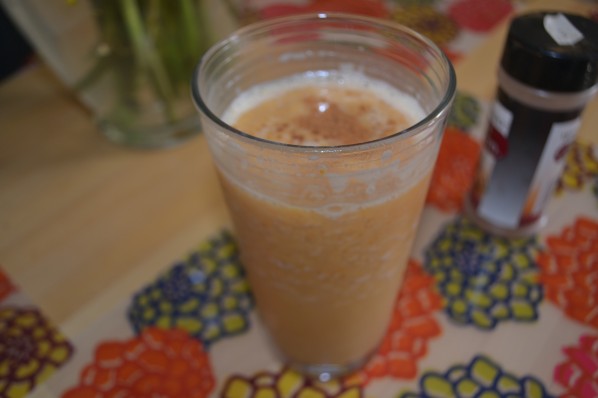 Breakfast
Spiced Pumpkin Smoothie (adapted from Real Simple)
Total Time: 5 minutes, serves 1
Ingredients
1 cup of ice
1/2 cup almond milk
1/3 cup pumpkin purée
1 tablespoon maple syrup
1/8 teaspoon ground nutmeg
Directions
Place all ingredients in a blender and blend until smooth. Drink up! It's like Thanksgiving in a cup. (The Proposal reference, anyone?)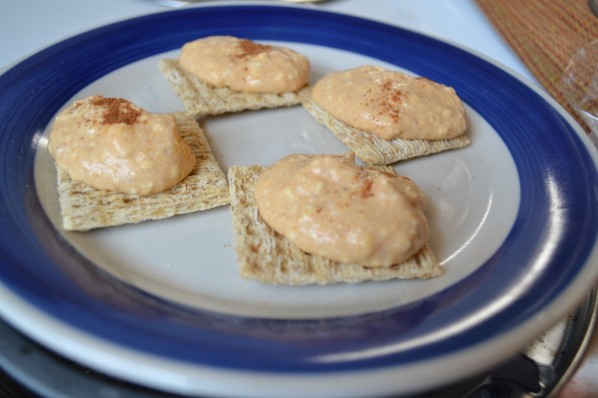 Lunch
Pumpkin Cheesecake Bites
Total Time: 5 minutes, serves 1
Ingredients
2 tablespoons cream cheese
1 tablespoon pumpkin purée
crackers
cinnamon and nutmeg, to taste
Directions
Stir cream cheese and pumpkin purée together in a bowl until completely blended and smooth. Add a pinch of cinnamon and nutmeg to taste. Spread on crackers and garnish with a sprinkle of cinnamon. It's an easy way to eat pumpkin cheesecake without the whole pie part.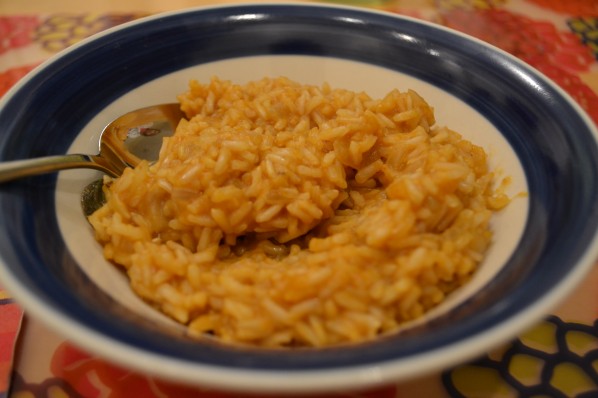 Dinner
Creamy Pumpkin Brown Rice (from Whole Foods)
Total Time: 1 hour, 15 minutes, Serves 5 (it says 8-10 online, but I used it as a main course instead of a side and it served four with leftovers for one more meal)
Ingredients
3 tablespoons extra-virgin olive oil
1 white or yellow onion, chopped
2 cups uncooked brown basmati rice
1 can pumpkin purée
6 cups low-sodium vegetable broth
3 bay leaves
Salt and pepper to taste
Directions
In a large pot, heat oil over medium heat. Add onions and cook, stirring occasionally until softened and translucent, 7 to 8 minutes. Add rice and stir to coat with oil. Toast rice, stirring often, until fragrant, 3 to 4 minutes more. Meanwhile, whisk together pumpkin purée and broth in a large bowl.
Stir broth mixture and bay leaves into pot, season with salt and pepper and bring to a boil. Reduce heat to medium low heat, cover, and cook, stirring occasionally to keep rice from sticking to the bottom of the pot, until liquid is absorbed and rice is cooked through and creamy, about 45 minutes. Transfer to a bowl and serve immediately. Depending on your stove, it may take longer for the rice to cook. It was a little crunchy when I tried my recipe, but I did not let it sit in the pot for the full 45 minutes (I was so excited I could not wait any longer). If you like your rice softer, I would suggest leaving it in the full time, and maybe longer if need be. This creates a creamy and filling risotto dish, perfect for a cold fall night.