It's been a long time coming, but it seems like we are about to enter an age where one doesn't need a TV to actually watch TV.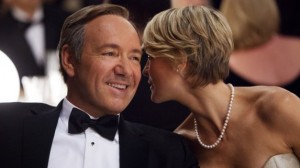 Netflix recently announced that it will release the entire first season of the original series House of Cards through its site on February 1.  The show, adapted from a BBC drama of the same title, stars Kevin Spacey and is produced and partly directed by David Fincher (The Social Network, Se7en, Fight Club, etc.). House of Cards is just the latest show in Netflix's new lineup of original programming, which also includes the return of the cancelled yet critically beloved Arrested Development.
Yet what's more important than the shows themselves or the names attached is the relatively new tactic of releasing content exclusively online instead of through the various TV networks. Over time, streaming sites like Netflix and Hulu have rapidly gained popularity, and networks themselves have made their programming available for online streaming or on-demand. It is now easier than ever to watch shows anytime, anywhere, all from a laptop, cell phone, video game console, or yes, even television set.
With all this convenience and choice, networks have seen their ratings drop across the board. Even the most successful shows today cannot pull in numbers anywhere close to the highs of Friends or Seinfeld from the not-so-distant past. But networks have not yet figured out how to account for and make similar profits off online content – the result being that highly rated hits like The Big Bang Theory or CSI offer simple-minded, lowest-common-denominator entertainment while shows like Community or Terriers, which are fiendishly adored by critics and fans but are more popular online, are thrown in the trash bin. What we ultimately get is shows that are less experimental and mostly less interesting for fear of cancellation.
In the past few years, there have been a few attempts to buck the network system altogether when it comes to original content. Hulu has produced several exclusive, well-received shows and others have taken off entirely from YouTube, such as Lisa Kudrow's popular Web Therapy.  Though these have been modest investments that garner moderate success, with House of Cards Netflix is the first to produce their content on such a grand scale ($100 million budget) with true A-list talent at the helm.
If their experiment works, we could be looking at a complete transformation in the way we watch TV. There will always be sports and news, but how many people still tune in to watch their favorite show when it airs, commercials and all, at the same time every week?  As networks start to realize this, our television experience will increasingly come from other sources and shift toward the online realm.
There are several repercussions to this.  Today, online-only shows are relatively free from the network interference that make many others bland and unambitious. For House of Cards, Fincher and his team had complete creative freedom, and there's no doubt that the series will be better off for it.  If online content remains free of the restrictions of network programming, we could be seeing a new golden age in TV and the solidification of the art form's supremacy over film.
However, I do have my reservations about this next generation of TV viewing.  If other shows follow House of Cards' lead and release every episode online at once, how will they build buzz and word of mouth over a few months of the year? Even if the series is fantastic, how long is its shelf life if most people will go through it in a week or two and forget about it? In an evolving world where we have less and less shared cultural experiences, part of the popularity and reverence for shows like Mad Men and Breaking Bad are due to our ability to break them down, discuss them, and eagerly anticipate the next episode between weeks and seasons. I have a creeping sense that if these shows release a whole season online at once, it would get some people talking but ultimately would not garner the respect or audience that they deserve. With its obvious prestige, will House of Cards create the excitement and awards talk that it would most likely receive if it were to air on another network?
It would be a futile effort to attempt to predict the future of the television medium, but the possibility of more interesting shows and increased convenience of viewing warrants excitement. I don't foresee a time when a TV set in one's home will be akin to keeping a record player–simply that the TV itself will not be necessary at all. Our relationship with our favorite shows will change, possibly for the better, or possibly for the worse.