Sports films try to take advantage of all of the film genres, from comedy (Talladega Nights) to drama (Annapolis) to biographical films (Ali). Altogether, these films focus on the struggle of the athlete, the beauty of the sport, and ultimately prove that Will Ferrell can make anything funny.
Here are three of the better sports films and series that any sports buff should watch: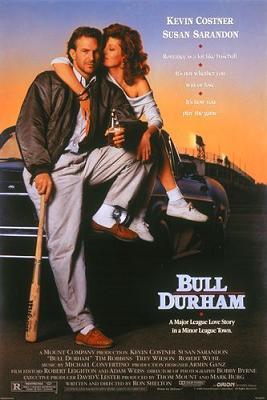 Bull Durham: This 1988 film is the #1 sports film according to Rotten Tomatoes and stars Kevin Costner as a veteran of the minor leagues who gets sent to the Bulls to help a young pitcher (Tim Robbins) get his act together. The film is an archetypal romantic comedy, thanks to the presence of Costner's love interest, Susan Sarandon. At the time, this baseball film was expected to flop, but nonetheless it became a critical and financial success, mainly because of Costner's wit, Robbins' ego, and Sarandon's overall appeal and dedication. At the same time, the film is also wildly accurate.
Hoop Dreams: The 1994 documentary focuses on the lives of William Gates and Arthur Agee, two teenage African Americans who hope to make the NBA. They work towards this goal while attending St. Joseph's High School in Westchester, IL, a 90-minute bus ride away from their home. The film not only follows their academic, athletic, and economic struggles, but it also accurately portrays the commitment displayed by young athletes in their situation. Although critically acclaimed, it was not nominated for Best Documentary in 1995 by the Academy to much aggravation. (And may I suggest, due to the constant stream of basketball players from Chicago, that maybe it's time for Hoop Dreams II?)
ESPN's 30 for 30 series: The entire film series is worth watching, solely for its educational aspects. Each one functions as a mini-history lesson and focuses equally on sports and current affairs. Take for example Once Brothers, about NBA players Serbian Vlade Divac and Croatian Drazen Petrovic. The film chronicles their friendship, as well as the war in former Yugoslavia after the fall of the Soviet Union. They would never speak again after the war due to Petrovic's death in 1993. It is a gripping tale, just like the others in this collection of 30 films spanning all types of sports. Another favorite is Pony Express, which is about SMU's football program and how it earned its death penalty in 1987. The series is currently airing its second volume.
ESPN will air Benji as a part of its 30 for 30 series this Tuesday at 8 p.m. ET.