The Smashing Pumpkins Are Playing Agganis. Should You Go?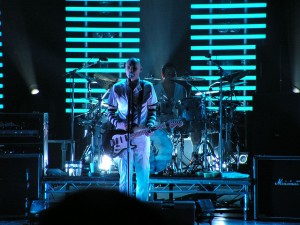 In 2005, '90's alt-rock titans The Smashing Pumpkins reunited. At first, this reunion went the way these things tend to go. Only two original members were involved (lead singer/songwriter/guitarist Billy Corgan and drummer Jimmy Chamberlin) and the whole thing appeared to be more about Corgan's ego than anything else (seriously, dude took out full page ads in both The Chicago Sun-Times and The Chicago Tribune to announce this thing).
Since then, we've seen the release of a really, really terrible reunion album in 2007's Zeitgeist, a tour that included some really weird song choices ("Glass and the Ghost Children"! "The Crying Tree of Mercury"! They acknowledged the existence of "Heavy Metal Machine"), and finally, a strange album/song project thing called Teargarden by Kaleidyscope that produced mostly mediocre songs that only people who still care (me) have heard. And yet, here we are. Even though they only have one original member left (Chamberlin departed in 2009), the Pumpkins are on tour and set to play Agganis Arena this coming Saturday. Should you go?
Full disclosure: The Smashing Pumpkins are my favorite band. I've seen them two times, and this will be my third. If you were to come up and say, "Hey, Burk! Should I go to The Smashing Pumpkins?" I'd probably say, "YEAH! Come with me and we can yell at Billy to play 'Mayonaise' together!" Unfortunately, me being a huge Pumpkins fan is not a very good reason for you to go. That being said, I do think there are quite a few compelling reasons to check out the band this Saturday.
The most important thing to know when thinking about the Pumpkins as a live band in 2012 is that Billy Corgan considers them an active group. That is to say, whether you agree with him or not, he does not think that this band is a nostalgia act. If you only know the Pumpkins by their biggest hits ("Cherub Rock," "Today," "1979," that "Rat in a Cage" song, etc.), and they are all you want to hear, then I can't say you're going to get much out of this show. While the band has been playing old tracks on this tour, including quite a few of the aforementioned and some awesome rarities like "Tonite Reprise," they're only playing old stuff during the last half of the show. The first half of each show on this tour features playing their new album, Oceania, front to back.
Yeah, The Smashing Pumpkins released a new album this year. You probably didn't know that, and I can't blame you (although the album did debut at number 4 on the Billboard 200, something that surprises me). I spent the entire first paragraph of this article talking about how bad most of the band's post-reunion material has been. And for good reason: make no mistake about it, Zeitgeist was bad, and it hasn't gotten any better with age. I guess "Tarantula" is still kinda cool. So, why on earth would I recommend you check out a concert in which the band spends half the time playing new stuff? It's because Oceania is actually pretty damn good!
Seriously! It's definitely the band's best work since Mellon Collie and the Infinite Sadness. (This fan thinks it's the best since Adore. Speaking of which, go listen to Adore. It's way better than you think.) It's actually miles ahead of both Machina I and II in terms of being an enjoyable rock album. Some of its best songs borrow heavily from the Pumpkins of old, but it's the first Pumpkins album since basically 1998 or so that actually sounds like a logical progression of the band's sound. It sounds like what I think the follow-up to Adore should have been. I'm particularly partial to the synthesizer-led "Pinwheels," but there are plenty of other good tracks on the album as well. The concert itself has been designed specifically for Oceania–the band will play it with little to no breaks between tracks, and they have a specially designed stage/set to accompany it. I can't think of a more fun way to check out a new album.
I'm gonna be honest, this is probably the first time I can fully recommend going to a Smashing Pumpkins concert to someone who's not a devotee. It has taken a long time for this band–essentially an entirely new one–to really come into its own. Now, though, I feel very comfortable calling this band "The Smashing Pumpkins" instead of "Billy Corgan and Friends." It's a great feeling; the band has a nice groove now, they clearly enjoy playing, and I think the show will rule. If you're willing to enter with an open mind and don't mind hearing some new stuff instead of just being mad when they don't play old songs ("When are they gonna play 'Today'?!?!?!?!"), then I think you'll have some fun. Go!
Seriously, go. The band isn't as popular as it once was, and I get the feeling the arena won't be too crowded.
However, if you are a mean person and don't go, then come back here Tuesday. I'll have a trip report/review up. Maybe they'll play "Mayonaise."
Tickets for the show can be found here. You can also get tickets for $25 at the arena box office, but only with a valid BU ID.