With the start of the NBA around the corner (tonight, 8 p.m., Celtics v. Heat, TNT), it's time to look at the other storylines from the off-season and wonder about what the season will bring: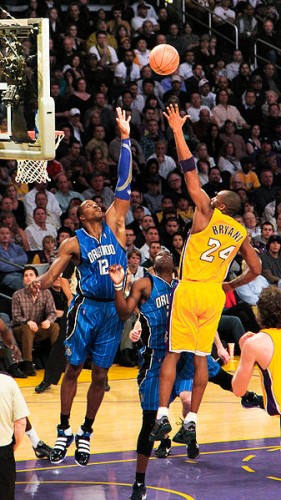 Is Houston a genius or jester?
After being unable to bring in Dwight Howard this past off-season, the Houston Rockets continued to work towards being more competitive. After missing the playoffs the past two seasons, the team brought in point guard Jeremy Lin and center Omer Asik, two rising players for $50 million. Then, on Saturday, Houston traded for OKC Thunder guard and reigning sixth man of the year, James Harden. Harden was expected to sign an extension with the Thunder, but after being unable to find an agreement with the organization, he was shipped out. Now, thanks to Harden's shooting and Lin's passing, the Rockets have a back court that would make a coach salivate. At the same time, this could all backfire. Is Harden ready to lead a team? Is Lin the real deal? Will they figure out their forward rotation from the glut of talent at those positions? The only certainty is that they are definitely better.
Will Dwight stay in LA?
The past offseason produced some notable events, none more spectacular than the trade of Dwight Howard to the LA Lakers. The move came after months of questions and possible trades for the former #1 draft pick. Now in Lala-land with Kobe, Pau, and other new arrival Steve Nash, the question raises itself—will he stay? Howard is on the last year of his contract and has yet to give any indication if he will stay. He sustained a non-committal yet professional attitude to the entire thing, but never gave a direct response. A championship would convince him to stay–but what if they lose? Does he stay with Kobe and the boys, waiting for Black Mamba to give him the keys to the city? Or does he go to one of his back-up options (Brooklyn, Houston, etc.)? (Just a piece of advice–avoid this at all cost.)
Have the Celtics successfully reloaded?
The Celtics went to the Eastern Conference finals last season with three aging stars, a rising point guard, and a bench so weak that it has been mostly shipped out. The team has brought in Courtney Lee, Jason Terry, and Leandro Barbosa, to replace Ray-Ray's sharp shooting. They drafted a potential steal in Jared Sullinger and retained Jeff Green and Brandon Bass. The rotation is being looked at as the type of headache a coach likes. The question isn't about the team's changes—but whether they will do it again. They look better, but are they better? Did they peak at the right time last year? Can they get back to the conference finals? The last one's a maybe. We will have to wait and see.