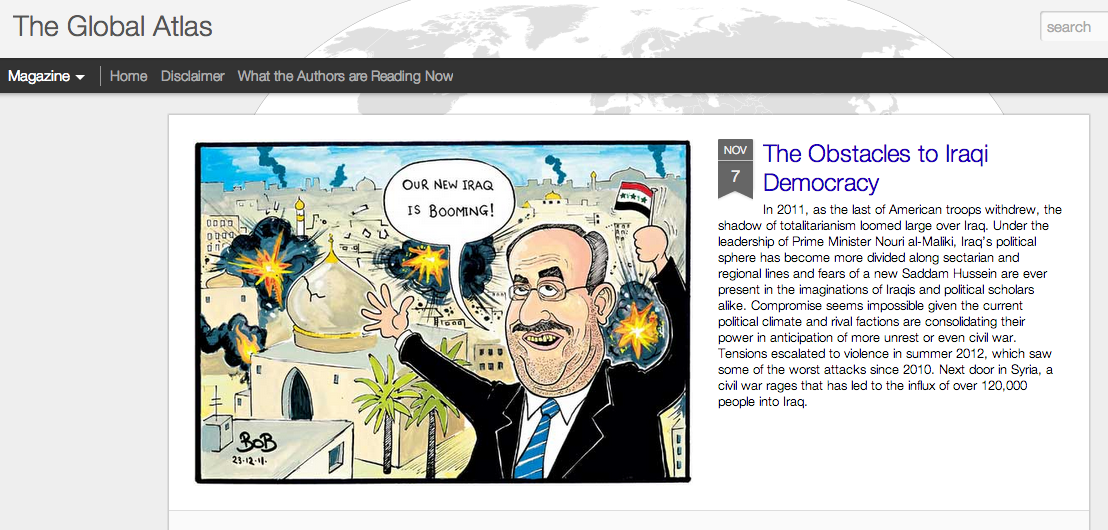 Foreign policy certainly was underscored, if not neglected, this past presidential election. Even Senior Foreign Affairs Correspondent Martha Raddatz recently called this negligence "heart breaking," especially for a nation at war. "No one talks about it," she said. And now that President Obama returns to the White House for his second term, where should anyone turn to understand and engage with clearly important international affairs?
Look to Vicky Kelberer, Colin Wolfgang, and Zach Crawford–past and present BU students who run The Global Atlas, a Blogspot for insightful musings on international relations. The idea for this blog initially blossomed out of a prolonged interest in global politics: "Having graduated last May and gone into non-IR fields, both Colin and I were definitely throwing around ideas of how to continue our involvement in international relations," says Kelberer. The blog format readily lent itself to their continued involvement post-grad because it is not only "inclusive and accessible," but also rather easy to manage, Kelberer added.
The Global Atlas provides a comfortable, coffeehouse setting for peer discussion about important world affairs. Its readily scrollable, modern design features striking headlines such as "The Obstacles to Iraqi Democracy" and "How China and the U.S. Can Avoid a Thucydides Trap." The creators also share their weekly readings, so everyone else can follow along with their current digests.
Although it is inherently educational (I now know the definition of a Thucydides Trap), explanation was not the primary goal. "It's more about doing something outside of my comfort zone, that is, displaying my opinions and analyses to a wider (and perhaps critical) audience, with the opportunity to learn outside of the classroom and collaborate with my friends while I do it," says Crawford, who helped establish the blog this past summer, and completes the triumvirate of these IR intellectuals.
Ultimately, "the idea was to create an outlet where current students will eventually feel comfortable engaging in active discussions, providing opinions and ideas, and perhaps submitting their own articles for us to publish," says Wolfgang. While at the moment, no outside submissions have been published, the door is wide open for the thoughts of other BU students.
All three creators would also agree that The Global Atlas is the perfect way to cultivate different writings styles and to sharpen their writing skills. Wolfgang adds, "the blog seemed like a great idea to me on a more personal level, as somewhere for me to continue practicing my writing skills, presenting my own opinions outside of the classroom, and keeping up to date with what is going on in the world."
Their IR specialities have not limited their writing interests either. The challenge of writing about unknown foreign political territory ensures that this blog remains intriguing and fresh. "I don't think this would be a worthwhile endeavor if we always stayed within our comfort zones, and I have really enjoyed learning things about Mexico's internal politics, for instance, something I never would have studied in school," says Kelberer, whose own IR specialties include the Middle East and North Africa.
"It's been fun to be able to choose any topic, research it well and write an informed piece on it. That freedom keeps the creative juices flowing and has really allowed us to pursue whatever we find interesting that others might like to know as well," adds Crawford, whose specialties parallel Kelberer's, but also include world order.
"My background is Europe and security studies, so one article will be about the ongoing crisis in the EU, while the next will be about the strategic relevance of Tajikistan," shares Wolfgang. Variety certainly is the driving force for their Atlas, one which is reflected in their blog posts. In August, Wolfgang wrote a humorous break-up letter to Pakistan from the U.S., as the scorned, once supportive lover: "And I know you're tired of hearing it, but I can't let the whole Osama bin-Laden thing go. You were cheating on me that entire time with him? And of course you couldn't get rid of him and hide it from me the way you should have–instead, I had to come in on my own volition and discover him there? That hurt."
Overall, feedback has been nothing but positive for the Atlas, and amidst this blind-eye recently turned to foreign policy, I think this praise will continue into 2013.
Visit The Global Atlas here.