I enjoy spending the day after Thanksgiving curled up in a giant hand-knit blanket, sitting by the fire with my dog, and making delicious warm, festive drinks with my family–perhaps, I'll even throw some friends into the day's plan. Many people, however, seemingly fight off their turkey induced coma and brave the frenzy of Black Friday, the busiest shopping day of the year.
What exactly motivates people to leave their warm beds and trek to various super-stores at the crack of dawn? Can a new iPhone or television really be worth the emotionally and physically exhausting fight? In my opinion, no.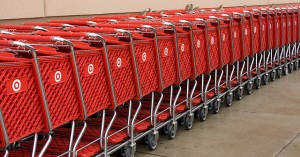 However, I've contemplated going along for the ride with my die-hard Black Friday fanatic friends this year. And, as I sit here and debate whether getting body checked by a soccer mom at Walmart is really worth it, I've come up with my own little "survival kit' for the occasion. That way, if I do decide to wake up at 4am and drive to malls with my friends high on tryptophan, I'll at least have an inkling of an idea as to what I'm doing–and what I'm getting myself into.
Know what time the stores open:
I realized it would be extremely helpful to know exactly when stores plan on opening. Over the past few years, some stores like Macy's have started opening at midnight on Thanksgiving. Others, like Target, open at 4am which, for Black Friday standards, is more of the "norm." Wal-Mart will be opening this year at 8pm on Thanksgiving Day. Do a little research online to figure out what time the stores you'd like to go to open and plan accordingly.
Know exactly what you want:
From the sound of it, Black Friday isn't exactly the right time to leisurely stroll through your favorite store and browse for something you'd like. Go in knowing exactly what you want at each store–even make a list to help keep track. This will keep you (and potentially myself) from wandering into a store and having no clue what you want. Get in and get out, ASAP.
Prepare yourself:
Dress in layers because leaving your warm bed to face the early morning's cold air could make you regret the excursion. But, being crammed in a store with a ridiculous amount of people will make Black Friday shopping hot. Wear comfortable shoes if you plan on making the most out of your trip. Perhaps most importantly–bring water and snacks. You don't want Black Friday to get the best of you.
Whether or not I personally decide to ditch my traditional day-after-Thanksgiving plan, this guide will provide a little mental and physical help to those of you who find the courage to face Black Friday. Good luck shopping but, most importantly, have a happy Thanksgiving!