When David Beckham arrived in 2007, America stopped to watch. The Los Angeles Galaxy welcomed him with 5,000 cheering fans at the Home Depot Center. ESPN gave him an hour-long special before his first game. His jersey sales broke league records. All eyes were fixated on "Golden Balls," the two-time runner up for FIFA player of the year. Now, six years down the line, he is leaving the states, after gaining a storybook ending to his time in Hollywood.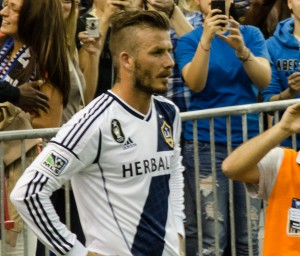 To say his time in America was solely for the sport is an oversight. The MLS, on the rise in America, wanted to make a splash. So why not bring in the one athlete, the most un-soccer-savvy of fans would know? In comes Beckham, whose pretty face is as well known as his free kicks. To note—a majority of his $46 million payday from the past year, is mostly made up of endorsements.
He and wife Victoria (you may know her) are constants in the tabloids, along with their brood of four kids. His friends are the likes of Will Smith and Tom Cruise. Everywhere he played, he drew fans. Everywhere he went, he drew crowds. In other words, this is the "Beckham Effect"—major star plus big payday equals lots of fans.
However, he has to face many a critique. There are those who feel he should have been winning a title every year. There were critics of his two loans deals to AC Milan during the offseason, since many considered them excessive. There was his leg injury while on loan in 2010, forcing him to miss all but seven games of the MLS season. There was the Beckham Experiment, a book that questioned whether or not his presence was a success. As well, questions of team chemistry focused mainly on reported spats with teammate Landon Donovan aka the face of the U.S. National Team.
Nonetheless, what speaks the loudest is his play on the pitch. Beckham continues to impress fans with his passing, touch, and the wonder goals. In the past two seasons, Beckham was the most productive of his MLS career. In 2011, he finished with the league's second most assists, at 15. He has continued to be a leader on the pitch and has been a three-time all-star, during his time in America.
With Sunday's 3-1 over the Houston Dynamo in the MLS Cup final, Beckham leaves America on top. His era may be over, but his next move is still uncertain. The only constant is we all know we'll still be watching.