Boom! Wham! Pow! The ComiQuad is a column dedicated to the spandex-laden world of comics and superheroes. It goes up each Wednesday and will alternate between comic book reviews and other comic book news. Reviews shall try to be spoiler-free. And it's back! Zam!
"Give a man a fish and you feed him for a day. Teach a man to fish and you feed him for a lifetime." – Chinese Proverb
That saying means nothing if the man (or woman) has no idea how to find water. This week's ComiQuad will direct the starving, huddled, and comics-less masses to the waters of geeky salvation: their local comic stores.
Comicopia
Located at 464 Commonwealth Avenue in Kenmore Square.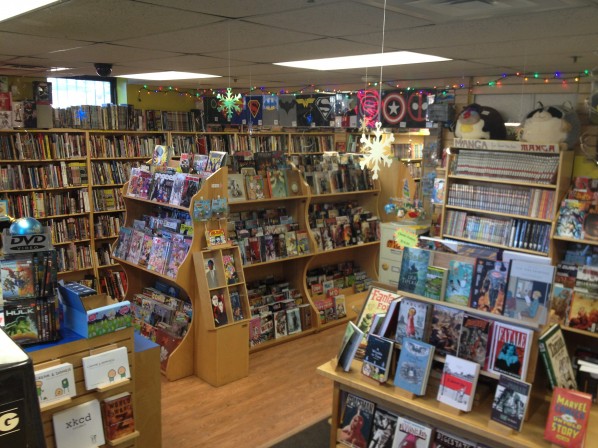 Nestled in a corner of Kenmore Square, Comicopia is the closest comic book store for any Boston University student living in East, Central, or South Campus.
When walking into Comicopia, a customer will see that the petite store doesn't fit the stereotypical image of a "dungeon-like" comic book store. The walls are painted bright yellow, the shelves are clean and impeccably organized, and, despite its size, the store never feels cramped. It's well-lit too.
The employees take pride in making Comicopia a welcoming environment for people of all shapes, sizes, and experience levels.
"We don't do the whole 'boys' club' thing," said employee Maggie Curtis, referring to comic book stores that act hostile toward new or female readers. "We're not elitist here."
"We're very 'everybody' friendly," elaborated fellow employee Angela Outlaw. "So it doesn't matter if you're gay, straight, male, or female. We love everybody. We're very open."
They also pride themselves in the fact that Comicopia marches in Boston's LGBT Pride Parade every year. In fact, they're the only Boston comic book store to do so.
In addition, Comicopia boasts the largest selection of manga in New England, the largest booths at local conventions, and rotating showcases featuring different types of comics.
"We try to keep it fresh all the time," said Outlaw.
New England Comics
Located at 215 Harvard Avenue, Allston.
Not far from both Coolidge Corner and Packard's Corner, New England Comics is the closest comic book store for Boston University students living in West Campus or off-campus in the Allston/Brookline area.
If there's one thing that's apparent upon walking into New England Comics, it's that the business is, in fact, serious about comics. The building's interior (which does lean slightly toward the "dungeony" comic book store stereotype) is lined with a vast variety of comics and merchandise, both new and old. Well-preserved comics from the '70s, unique superhero figurines, and a slew of independent comics don the shelves.
"The biggest thing about this store," said employee Brian Tansey, "is all the independent titles, smaller press stuff to try and meet the demands of the more diverse college kids."
According to Tansey, each branch of New England Comics has its own personality, and this branch is largely influenced by the collegiate customer base.
What might be the store's most impressive feature, however, is its "Bargain Basement." After leaving all bags with the front desk, a customer may descend into what may be a comic fan's heaven…or hell.
In the Bargain Basement, Tansey explained, "We have roughly 50-60 longboxes full of assorted dollar comics. There's a good mixed bag in there, anything from the '70s to current."
The overwhelming access to low-priced vintage comics is the "heaven" aspect of the basement. The "hell" aspect? The store purposely places the thousands of comics in absolutely no discernible order. It adds elements of adventure and luck to the search. While searching for a specific issue of X-Men, a customer may happen upon a rare, vintage issue of Wonder Woman.
Or, after hours of searching, the customer might never find what she or he is looking for. It's all a part of the challenge that is the Bargain Basement.
Newbury Comics
Located at 332 Newbury Street.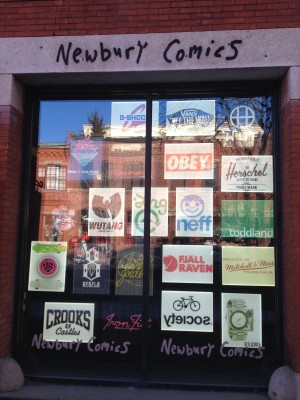 Although it might not be the closest comic book store to any Boston University student (including those stranded in Danielsen Hall), this location does boast something fairly impressive. It's a Newbury on Newbury.
Waltzing into any Newbury Comics store is almost always a very sensory experience. Neon lights, weird noises emanating from various doo-hickeys and what-nots, sometimes a peculiar odor (if you're at the Newbury near where I live in New Hampshire), and a vast sea of packaged popular culture are staples to the Newbury Comics experience. This Newbury is that experience magnified (except without the odor).
According to employee Jesse McDade, the Newbury Comics brand has, "a very kind of ground-up, do-it-yourself, kind of underground punk mentality behind the whole thing."
With its wide range of geeky and/or kitschy merchandise, the store essentially sells pop culture. A plush toy Ebola virus is just one of the many oddities you can find.
"If it's cool and it's fun, we sell it," said McDade.
He also felt that Newbury Comics has a lot to offer comic book fans. "We have a very friendly, knowledgeable [comics] staff. I really pride ourselves on our customer service," he said. "We also offer a great subscription program."
If a customer registers with Newbury Comics's subscription program, he or she is given a flat 20% discount on all comics merchandise and a guarantee that all of his or her comics will be set aside. A 20% discount, especially given the recurring nature of comics, is nothing to sneeze at. In fact, it might just be worth the longer walk.