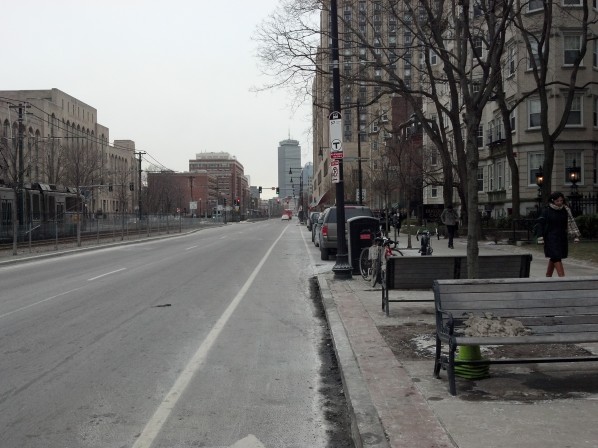 Boston is going under, but it's working on it.
In recent years, rising sea levels have started to loom threateningly over coastal cities forcing people to think seriously about climate change. The aftermath of Hurricane Sandy along the East Coast served to paint a picture of what may happen if we ignore the subject. Whether or not Sandy specifically was an effect of climate change, storms like it are exactly the kind we can expect to see more of as a result of climate change.
As a coastal city riddled with bays and rivers, Boston is especially vulnerable to such a storm. So, Boston, more than other cities, has a reason to invest in the fight against climate change and in ways to protect against its effects.
In light of this fact, Mayor of Boston Thomas M. Menino created Greenovate Boston in 2011, an initiative to prepare Boston for a changing environment. What's more, the project aims to reduce Boston's contribution to climate change by making it the greenest city in the US and reducing its greenhouse gas emissions 25% by 2020 and 80% by 2050.
The plan is a result of a trail of climate action goals and committees all leading back to Menino's 2007 Climate Action Plan, which was the original call for the city to become more environmentally friendly. The most recent edition, which outlines how the city hopes to accomplish its goals, was published in 2011 and is available to the public.
The document, which is over 40 pages of text, pictures, and graphics, outlines the city's biggest sources of greenhouse gas emissions and suggests ways to improve them. It also discusses ways to prepare the city for an emergency like the one faced by New York and New Jersey this past October. The whole plan is worth reading and presents some interesting and inspiring ideas, but  I'd like to focus on its ideas about transportation specifically.
One of the most interesting ways the city's Climate Action Plan seeks to reduce greenhouse gas emissions is with a fundamental change in the culture of city transportation. The plan is aimed at giving people every incentive to avoid driving—especially driving alone—and to choose walking, biking or using public transportation instead.
To do this, the administration hopes to make the city an unfriendly place for cars and a very friendly place for pedestrians and bike riders. For example, the plan includes "parking freezes," or reductions in the number of commercial parking spaces, to discourage the amount of people who commute into the city.
Another suggestion is to increase enforcement on metered parking as a way of discouraging people from driving to transit-accessible places. Meter enforcement also reduces the amount of time people spend parked in a spot, so other people have to spend less time cruising around looking for one themselves.
An important part of reducing the amount of cars on the streets is to make roads more friendly to bikes and pedestrians. The city's way of doing this is by making sidewalks wider and car and bike lanes smaller so that every mode of transportation has equal footing on the street.
However, changing Boston's culture of transportation depends on people choosing to avoid modes of transportation that are potentially harmful to the environment. Obviously, the city cannot force people to change their behavior, so it's aiming to combine incentives with education to steer them toward environmentally friendly means of transportation.
Amid the threats and apocalyptic visions of climate change, the city of Boston under Mayor Menino is taking measures to combat environmentally damaging behaviors. Whether the Climate Action Plan works remains to be seen, but at the least, it's a nice try.