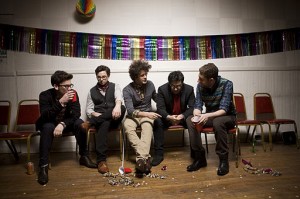 "F*ck the snow!" This was a running theme throughout the city, thanks to Blizzard Nemo. Passion Pit's lead singer Michael Angelakos eloquently yelled these words to a pumped up crowd midway through Sunday's show. Fans responded with cheers of agreement and then gratitude when promised a bigger and better show in Boston to make up for those unfortunate, snowed in fans.
The show, originally scheduled for Saturday, February 9, was moved a day later to February 10 when the University officially closed due to inclement weather. For BU fans, this wasn't a big deal. Students are used to fighting through the snow and slush, and a Sunday night show was only another reason to put off piles of homework. For others, Nemo's surprsing wrath left them with no choice but to stay home.
This happened to include one of the performers, Icona Pop. A seemingly perfect blend of synthpop, indie pop, jump around beats had been in store for fans by way of the Swedish duo known for their hit "I Love It." The disappointment wasn't announced during the show, but their absence was sorely missed.
Matt and Kim opened with their characteristic quirk and chemistry. Kim, having broken her foot by walking down stairs while texting, strapped on a boot to do her regular "crowd walk." The arena went wild as she was set back on the stage and proceeded into her signature booty shake. The power couple sufficiently hyped up the crowd with hits such as "Daylight."
The main event, Passion Pit, despite setback by a delayed show and missing Swedes, rocked the stage.
The band's catchy "Take a Walk," "Sleepyhead," and "Little Secrets," are ideal jamming music even from afar. Fans bounced and fist pumped to easily-memorizing choruses without a care, from the front row to the back wall of Section 107, despite the enormity of the arena.
What sets Passion Pit apart is its brilliant blend of indie pop, pumped up beats, and heavy, despair-laden lyrics. With lines such as "Who says that God exists?" "My life's become some blurry little quest," and "I'm so self-loathing that it's hard for me to see reality from what I dream," their songs go deeper than a chant for college kids to "Take a Walk" to class.
One of the best example of this is "Love is Greed." The crowd chants "Love, love, love, love…" to an upbeat rhythm as if it's sung to them by a smitten boyfriend, when in reality the song is a testament to the pain of romance and pronouncement that love is simply a "selfish little need."
This is no surprise to true fans – Angelakos speaks openly about his mental health issues and bipolar disorder. At a recent performance in New York City, Angelakos spoke to the audience, "Seven months ago they told me I could never tour again, and now we're here on stage at Madison Square Garden … And I'm going to keep doing it."
Here at Agganis, he showed no signs of despair. A suited up Angelakos, much to the appreciation of the Boston audience, gave a shout out to the group's origin at Cambridge's Middle East club, six years ago. Bandmates Ian Hultquist, Xander Singh, Jeff Apruzzese, and Nate Donmoyer are Berklee College of Music alums, while Angelakos attended Emerson – on the whole, the group attracts quite a bit of proud Bostonians.
In the end, Passion Pit, with the help of Matt and Kim, made the rescheduled show worth the trek through the snowbanks and slush.