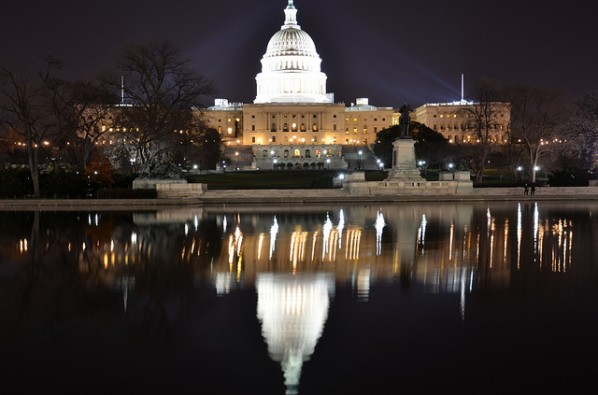 "Together, we have cleared away the rubble of crisis, and can say with renewed confidence that the state of our union is stronger," President Barack Obama announced within minutes of the start of his fourth State of the Union speech on Tuesday evening.
Considering how the entirety of the State of the Union was sixty minutes and nearly seven thousand words, we here at The Quad will gladly highlight some of Obama's major points from the night.
Bringing Jobs Back from Overseas
Because who doesn't like that?
"Caterpillar is bringing jobs back from Japan. Ford is bringing jobs back from Mexico. After locating plants in other countries like China, Intel is opening its most advanced plant right here at home. And this year, Apple will start making Macs in America again."
President Obama pointed out that manufacturers have added over 500 thousand jobs in the last three years. Obama also announced the launch three more manufacturing innovations institutes, like this one in Youngstown, Ohio, to revolutionize "Made in America" manufacturing.
Bringing Troops Home from Overseas
Because who doesn't like that more?
"This spring, our forces will move into a support role, while Afghan security forces take the lead. Tonight, I can announce that over the next year, another 34,000 American troops will come home from Afghanistan. This drawdown will continue. And by the end of next year, our war in Afghanistan will be over."
Obama reaffirmed his promise to withdraw all combat troops by the end of 2014, adding that al Qaeda, "is a shadow of its former self." Still, the President acknowledged that the terrorist organization is evolving into smaller affiliates, calling on the military's responsibility to help countries such as Yemen secure and strengthen their forces against them. These actions, Obama claimed, however, "don't need to send tens of thousands of our sons and daughters abroad."
On a side-note of defense, @dronestream, a Twitter handle that posts "every reported American drone strike, from 2002 to 2012" tweeted 33 times during Obama's address, providing names of civilian fatalities.
Raising the Minimum Wage to $9 per Hour
Goodbye, $7.25.
This 24 percent hike in the national average minimum wage would particularly help young workers in food preparation and service jobs, who, Obama stated, annually earn $14,500 working full time.
"This single step would raise the incomes of millions of working families. It could mean the difference between groceries or the food bank; rent or eviction; scraping by or finally getting ahead. For businesses across the country, it would mean customers with more money in their pockets."
America liked that one:
[blackbirdpie url="https://twitter.com/gov/status/301532473165242368″]
Protecting America from Cyber Warfare
It appears that the White House forgot to add The Quad to the list of embargoed news sources who were informed of Obama's latest executive action this afternoon, so we found out just like the rest of America– when Obama announced it five hours later:
"America must also face the rapidly growing threat from cyber-attacks. We know hackers steal people's identities and infiltrate private e-mail. We know foreign countries and companies swipe our corporate secrets. Now our enemies are also seeking the ability to sabotage our power grid, our financial institutions, and our air traffic control systems. We cannot look back years from now and wonder why we did nothing in the face of real threats to our security and our economy.

That's why, earlier today, I signed a new executive order that will strengthen our cyber defenses by increasing information sharing, and developing standards to protect our national security, our jobs, and our privacy."
To Nick Kristof of the New York Times with the witty humor:
[blackbirdpie url="https://twitter.com/NickKristof/status/301526432755113985″]
Education Reform 2.0
Obama has always been a big proponent of education reform, citing the Race to the Top initiative and his push to make college more affordable for students in tonight's address. In his first State of the Union address since reelection, Obama picked up steam on education reform, starting by pushing for high-quality preschool education for every child:
"Every dollar we invest in high-quality early education can save more than seven dollars later on – by boosting graduation rates, reducing teen pregnancy, even reducing violent crime."
Furthermore, Obama made another push for school curriculum, rewarding "schools that develop new partnerships with colleges and employers, and create classes that focus on…the skills today's employers are looking for to fill jobs right now and in the future."
Also was another push for collegiate affordability– the Obama Administration plans on releasing a "College Scorecard" tomorrow to help families find "where [they] can get the most bang for [their] educational buck."
Biggest Point of the Night: Gun Legislation Reform
Obama closed his address asking Congress to vote towards gun reform, from background checks to preventing gun resale and ammunition magazines. Several members of Congress wore green ribbons on their lapels– the school color of Sandy Hook Elementary School in Newtown, Conn.:
"Each of these proposals deserves a vote in Congress. If you want to vote no, that's your choice. But these proposals deserve a vote. Because in the two months since Newtown, more than a thousand birthdays, graduations, and anniversaries have been stolen from our lives by a bullet from a gun."
Obama recalled the several shootings that have occurred in the last few years, naming Sandy Hook, Gabby Giffords, Aurora, "and the countless other communities ripped open by gun violence," emphasizing that "they deserve a simple vote."
In what was the second-most tweeted moment of the evening, according to Twitter, Obama's words resonated with some BU students:
[blackbirdpie url="https://twitter.com/wutdafrenchcat/status/301529457875902464″]
[blackbirdpie url="https://twitter.com/Langston_Curtis/status/301529355786543107″]
Did it resonate with you? There's still time to tweet your reaction to the State of the Union Address– share your thoughts with the hashtag #QuadSOTU!