CAS history professor Cathal J. Nolan defended the lying of a democratic leader to his people in a lecture at the College of General Studies last Friday afternoon.
In the talk, jointly sponsored by the International History Institute and the World Affairs Forum, Nolan not only excused but commended President Franklin Roosevelt for his use of deception during the Second World War.
"Deceit, on occasion, is excusable when the nation is in fundamental danger," said Nolan.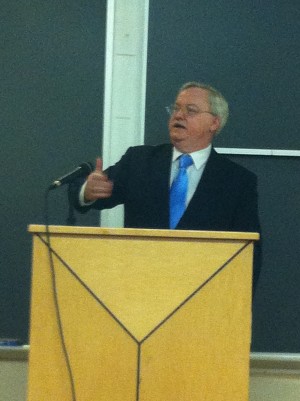 The lecture, a parallel to Nolan's book Ethics and Statecraft: The Moral Dimension of International Affairs, touched upon a broader topic: the moral and political implications of deception in American politics. In addition, it refuted the moral absolutism of lying and explained Nolan's veneration for leaders that lie in good faith.
Professor Nolan noted that not all of the President's lies were indefensible as "Franklin Roosevelt was a habitual liar…[who] relied on personal charm to achieve political goals." But Nolan asserted that, when faced against a possibility as imminent and nightmarish as global Nazification, Roosevelt was allowed–perhaps even obligated–to "deceive in order to lead."
Like a good educator, Nolan's lecture incited students to rethink and further their understanding of lying, to go against a status quo, which has been engrained in generations of Americans scarred by cynicism.
"Professor Nolan's lecture really helped me visualize the moral dilemmas faced by former US presidents," said Ghita Benslimane (CGS '13).
In regard to whether a leader's lying makes America a better nation, Nolan said, "I think Americans need a little dose of Machiavellianism every once in a while."