Two weeks ago, students of BU braved the weekend long blizzard Nemo. Some students used the extra day off to catch up on homework, while others participated in the "Snow Brawl" on the esplanade. Anne Whiting (CAS '13), an English major and writer, wrote a personal essay about the way she passed that snowy weekend and her snowstorm reflections on youth. The Quad chose to feature this piece because it captures what will, no doubt, be a weekend of historic snowfall etched in the memories of all of us BU students.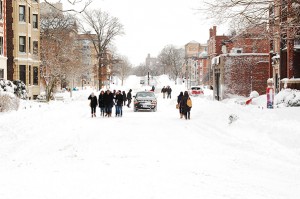 Stopping by Bay State on a Snowy Evening:
Lauryn has fallen asleep, after too much wine and too many potstickers. Outside on Bay State Road, the students whom we do not know at all but with whom we go to school are migrating to the esplanade for the big snowball fight. Everyone keeps screaming; the street is white. I should be outside rekindling my Northern roots but I can't help but sit in the silence of my own dimly-lit and disorderly bedroom and breathe in this moment of — what is it? — youth. Tonight I would rather be an observer, and an observer of myself as well.
The feeling of youngness has been lingering for a while now, since Lauryn and I decided we didn't want to play the conversation game we were playing, which kept asking us about our biggest fears and our proudest moments and our plans for our big futures. Earlier today I tried dying my hair with the henna I'd gotten in India, but it seems my hair, at least, is impervious to change. Lauryn dubbed it impenetrable. In general I am looking kind of ridiculous, but it's nothing too special: My hair is in a bun on top of my head. I am wearing ankle boots and have swaddled myself in a large plaid scarf that also works as a blanket. I have on a blue sequined belly-shirt I bought on Canal Street in New York when I was attending summer school at Parsons and my dad's old jeans that I've cut into "jorts."
With the onset of Nemo, we had left the house just once to get bagels from City Co.; I also bought Canada Dry seltzer on sale, and milk. I made bagel sandwiches with Kraft cheese. I did the dishes. My Christmas lights have been on all day, as has my lamp from the Goodwill. I am watching Andy Garcia's "The Lost City" because I am going to Cuba with a class in March.
The students outside laugh boisterously. It is still snowing. Plows come through occasionally. I feel blessed to be warm. There are sirens in the background, though snow muffles things and it's particularly good to hear them for some reason. I feel safe and taken care of. Some students have built snowmen in the street, which has blocked the way for the snowplows, so the police have arrived — it's an epic battle between blue lights and snowflakes. Finally a couple boys run and knock the snowmen down.
Loud cheers, laughter.
My phone keeps lighting up, and I marvel, as I sometimes do, at how connected and together we all are — I am alone right now, but I am not alone. We have all been dumped on by Nemo and we are all reaping the benefits of a snowy Bay State Road, though my response to the snow day was frozen Chinese food and Yerba Mate tea party with my roommate instead of a snow fort.
I take in my surroundings: the book I bought for Amine, the Williamsburg-hipster Eustace Tilly cover of the New Yorker, RayBan Clubmasters, fake "RayBans" from Italy, Lauryn's birthday gift. Syllabi, books, book bags, fuzzy socks, the Bill Cunningham documentary, the Milton book for my mentor, the replacement computer charger from "East Coast Macs" on Amazon. I upload some photographs from the night — I mean "photos" (we never call them photographs anymore) — to Facebook.
Newsfeed news makes me wonder where we will all be in a few months' time — freshmen at home, maybe, many of us at internships. Seniors, like myself, displaced, somewhere new, somewhere we like or love or hate or aren't really sure about at all. I imaging this peace and this quiet, despite the snowball fights outside, are fleeting. Snowmen and BU Alerts can't protect me forever.
What is it about right now? Why this alive sense of youngness about everything around me, and the feeling that I have to remember this one insignificant moment over others? About our broken creaky cupboards and the unhealthy things we eat, about going outside and throwing snow at each other even without snow pants, about the screams from the students getting hit.
There's a lot of joy in a snowball, you know. I think I'd forgotten that, though I grew up playing in the snow. I look outside: The trees are caked thickly. They are beautiful.
I can see the wind.