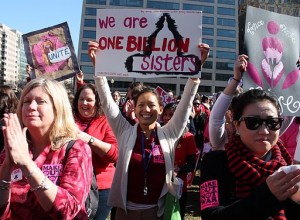 Who knew that faking orgasms could give money to a good cause?
The cast members of The Vagina Monologues are orgasm faking experts, year after year making BU students cry and then laugh until they cry some more.
The play, which has been been successful for almost 15 years at universities and stages across the country, was created by Eve Ensler, a playwright who interviewed over 200 women from around the world about their experiences of being women — through their vaginas.
The performance is a series of monologues: real stories of real women, performed by BU students. The women dressed in all black, with a few red accents and accessories, and held themselves with the confidence of strong, independent women. Stories ranged from an old woman who had never experienced an orgasm, a woman who learned from a boring man that her vagina is beautiful, a sex worker who mastered the art of "dominating" women (complete with a guide to every kind of moan in the book, performed in real-time right there on the stage), and a little girl's perception of her own vagina.
Questions asked at the original interviews consisted of: what would your vagina wear? If your vagina could say two words, what would it say? The performers yelled out a seemingly endless list of names for the private area, and they shouted out answers received from all over the country. "Mine would wear a silk gown." "Stilettos." "Leather pants." "Nothing!"
This comic relief had the audience roaring with laughter between the not-so-funny, eye-openers of monologues that shed light on issues that are less spoken of. The talented Vagina Monologues ladies gave stories of genital mutilation, rape, and abuse. VDAY, the non-profit organization behind the Vagina Monologues, also created by Ensler, raises funds and awareness to stop violence against women and girls,  Since its creation, VDAY has raised millions of dollars. The Boston University Vagina Monologues gave proceeds to both VDAY and BARCC (Boston Area Rape Crisis Center). The organization builds movements in Africa, the Middle East, and Asia, shelters for women in Egypt and Iraq, and educates both men and women around the world about the violence that occurs every day.
The Vagina Monologues successfully steals the audiences' hearts with performances that make us uncomfortable. They deliberately shock us, embarrass us, make us think, make us talk, and, hopefully, make us take action.
The key word was vagina. As the show's introduction pointed out, it's not the prettiest word. It's not sexy. It doesn't quite flow off the tongue. But that's what it is called, and The Vagina Monologues aims to make women love their vaginas. They scream, yell, jump, stomp, and moan to get women to love their vaginas. They make women laugh, cry, and yell about their vaginas. In the end, it gets women talking.
VDAY's latest campaign, One Billion Rising, is a fight against staggering statistics. According to the show, 1 out of 3 women will be beaten or raped in her lifetime, meaning that over 1 billion women on the planet are impacted. VDAY's 15th Anniversary, this past Valentine's Day, invited one billion women to rise up and end the violence.
Offering performances such as "The Vagina Workshop," "My Angry Vagina," "The Little Coochie Snorcher That Could," "Unexpected Vagina Fact," and "The Woman Who Loved To Make Vaginas Happy," The Vagina Monologues will never fail to shock the audience, year after year, and bring awareness to the vagina. If anything should be taken from this show, at the very least, it's that we need to talk about the vagina.