Darrien Garay (CAS '10, COM '12) demystified the neuroscience surrounding alcohol in "Alcohol on the Brain: The Science of Booze" Friday evening, and insisted on drinkers acting responsibly.
In the penultimate event of BU Students for Sensible Drug Policy's Alcohol Awareness Week, Garay armed the audience with the knowledge of how alcohol affects one's brain and behavior, with special focus on tolerance, withdrawal and addiction.
"Alcohol is a great model for all drugs of addiction," said Garay.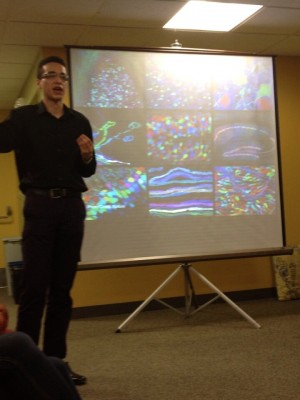 Garay neither condemned nor condoned the use of alcohol, choosing instead to simply inform people of the physiological effects. And because alcohol "is a very promiscuous drug," its altering effects are far-reaching in the body.
One such effect is the hijacking of the brain's reward/pleasure circuit, which drives and intensifies the body's desire for the substance to dangerous levels. Garay also explained such effects as delirium tremens, the withdrawal syndrome characterized by hallucinations and seizures. Other long-term effects of alcohol include insomnia, brain lesions, liver disease, and cancer.
Sticking to the just-the-facts nature of his lecture, Garay also mentioned that new scientific studies indicate alcohol might offer the benefit of protection against cardiac ischemia–inadequate blood and oxygen supply to the heart. Garay noted that the only other positive effect he could muster up about about the substance was its ability to act as a social lubricant by easing tensions and inhibitions.
However, he repeated that "alcohol, in and of itself, is neurotoxic."
Garay's message of caution towards potentially destructive substances seemed to have gotten through to the young, independent–and thus particularly susceptible–audience.
"I thought it was enlightening…I didn't know anything about neuroscience  before, or how exactly alcohol affects you," said Caroline Birsner (CAS '15).
But the lecture's counter to the romanticization of alcohol, which is so prominent in American culture, was the talk's real gem. And when Adlai Gordon (CAS '16) said afterwards, "Just because alcohol is everywhere doesn't mean it is safe," it is evident that awareness is spreading and others are now seeing through the distortion to what alcohol really is: a drug. And one that is just as–if not more–harmful as any other if abused.