After 40 years rink-side, one of the most decorated university hockey coaches in American history is retiring.
BU men's hockey coach Jack Parker announced his retirement on Monday, his 68th birthday, at a press conference at Agganis Arena. Parker (SMG '68, Hon '97) was a center on the BU hockey team from 1965 to 1968. He joined BU as an assistant coach in 1969 and was appointed head coach in 1973. In his forty years coaching the Terriers, he was awarded the Spencer Penrose Division Coach of the Year award three times and led the team to three NCAA championships. Parker's coaching career saw a total 894 victories.
Parker has said he was planning on retiring at the end of the 2012 season, but wanted to see his team through the task force employed by BU to investigate the culture of the hockey team in the wake of sexual assault accusations against two players.
At Monday's crowded announcement, the press, past players and members of the BU community listened as Parker reflected on his decision and indelible ties to the University. (University Grill even has its own Parker Burger–fresh ground beef, bleu cheese and bacon, in case you were wondering.)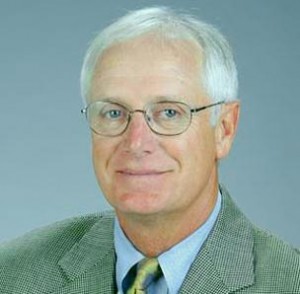 "I have two daughters and 226 sons," he said.
Parker doesn't plan on staying far from Comm Ave. He will still assist President Brown as a consultant for the Campaign for Boston University ("Choose to Be Great"). He will finish out the season with his beloved Terriers as they compete against Merrimack in the Hockey East playoff quarterfinal series beginning March 15.
BU women's hockey coach Brian Durocher (SED'78), a number of former players, and other hockey coaches from around the nation may be interested in filling Parker's role come next season. They may be a coveted pair of shoes, but they're a pretty big pair to fill.