As a political junkie, it was the simple title of Stage Troupe's latest show that attracted me to the Student Theater on a snowy Thursday evening: Election Day.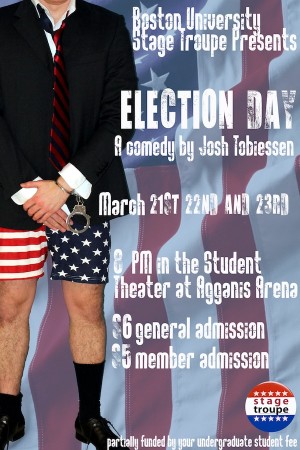 And let me tell you, BU– you don't need to be the political junkie, Nebraska-has-five-electoral-votes type to enjoy this exceptional and fast-paced comedy.
Election Day, a play written by Josh Tobiessen and directed by Joe Reed (CAS '14) centers around Adam (Marc Finn, COM '16) on what is expected to be his city's very normal mayoral election day. He starts the morning off commanded by his politically-active girlfriend, Brenda (Molly Bourque, CAS '13) to go out to the polls and vote on his day off of work. In consequence of his apathy and laziness, Adam finds himself embedded in the mess of his lewd and quirky sister Cleo (Isabella Walpole, COM '15) as she attempts to charm herself into an ecoterrorist's pants (Eddie, played by Will Dowsett, COM '16) as an agent in his crew of tree-hugging misfits. (There may or may not be molotov cocktails involved.)
What's more, the mayoral candidate, Jerry Clark (Greg Nedeltscheff, SHA '13) himself appears, willing to do anything to appeal to undecided voters like Adam. (Though Brenda specifically told him NOT to vote for Clark, he hasn't voted yet, right?).
The entirety of the play and its performers were phenomenal. Each actor appeared to fill their roles with genuine character insight. Walpole was beyond exceptional as the wacky, individual-but-desperate-to-fit-in Cleo and owned the stage from her first scene, causing the audience to erupt in laughter from her wide-eyed expressions and chirpy, conversationalist voice.
Finn took on the largest role as Adam and succeeded in portraying the politically indifferent graphic designer from start to finish as the character transformed into an increasingly bewildered being from the events of his day.
Election Day combines the thrills and hypocrisy of political activism with the unpredictable complexities of human emotion and action to produce a jaw-dropping hilarity of a show. High praise goes to Reed and his team for putting together a diverse-charactered and layered performance with what appeared to be ease and disorderly grace. Every BU student who attends Election Day this weekend will surely be fulfilled from the energy of the stage and the belly laughs of the audience and themselves.
Catch Election Day in the Student Theater at Agganis Arena this Friday and Saturday (March 22 and 23) for $6 general admission and $5 for members. Cast your ballot at 8 p.m.