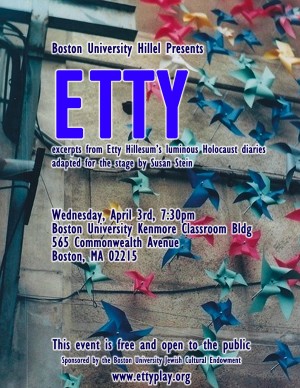 "Your first word of all was light,/and time began. Then for long you were silent./Your second word was man, and fear began,/which grips us still./Are you about to speak again?/I don't want your third word," Susan Stein, the star of ETTY quotes from Rainer Maria Rilke, her character's favorite poet. And indeed, ETTY deals with a fear both of the past, present, and future during the Holocaust in Holland.
ETTY is an hour-long, one-woman play based on the diaries and letters of Esther Hillesum, adapted and performed by Susan Stein, and directed by Austin Pendleton. Hosted by the Florence and Chafetz Hillel House, ETTY was performed free for the public on Wednesday, April 3 at 7:30 p.m. in the Kenmore Classroom Building.
Etty Hillesum was a member of one of the many Jewish councils established by the Nazis in Holland after their invasion, and the Dutch surrender in 1940. They were comprised of Jews initially in charge of helping ghettoized Jews acquire food and permits, but who would later be responsible for registering six hundred Jews per day, eventually resulting in their deportation to concentration camps. Etty served at Westerbork Camp, and was given the special privilege of being allowed to travel between there and Amsterdam while she worked with the Council.
The low lights in the small lecture hall, and the closeness of the audience to the stage helped create a feeling of intense intimacy with the performance. ETTY had no music or special effects, nor  even a set. All that graced the makeshift stage was a brown leather suitcase, until Stein entered in a simple black dress with white flowers, her hair pinned back from her face. She waited a moment before speaking, and the audience audibly stifled its breath.
Every line of ETTY was carefully chosen in Stein's adaptation of Etty's writings; it is clear how each phrase connected to the next in the journey in her life. Stein delivered every line with a painfully powerful humanity that drew the audience inside the room she occupied and even her own head, although she was the only person truly in the room.
The most gripping aspect of Stein's performance was her myriad of subtly expressed emotions from her guilt, anger, desire, fear, and her intense frustration with the war, God, and most of all herself. She battles with her depression and sexual fantasies as well as with her survivor's guilt as she sees the trains leave Westerbork Camp every Tuesday, carrying Jews, many of whom she herself has registered, away to their prospective concentration camps.
On stage, she struggles constantly with the indescribably strange intermingling of everyday life with the daily realities of the Holocaust. From the first moment Stein appears on stage until the moment she makes her haunting exit, her heartbreaking, yet simple performance is ultimately the only tool required to convey the powerful message of ETTY. 
Anyone interested in learning more about ETTY, Etty Hillesum's life and the process of the play itself should access www.ettyplay.org.