On Thursday, April 4, the Center for International Relations hosted co-authors Eric Schmitt and Thomas Shanker, who spoke to an audience of international relations students and professors about their experience writing their 2011 book, Counterstrike: The Untold Story of America's Secret Campaign Against Al-Qaeda. The book features an in-depth exploration of the evolving counterterrorism tactics the U.S. has deployed post-9/11.
Schmitt is currently a terrorism correspondent for The New York Times, covering issues of terrorism and national security. Likewise, Shanker is a Pentagon correspondent for The New York Times.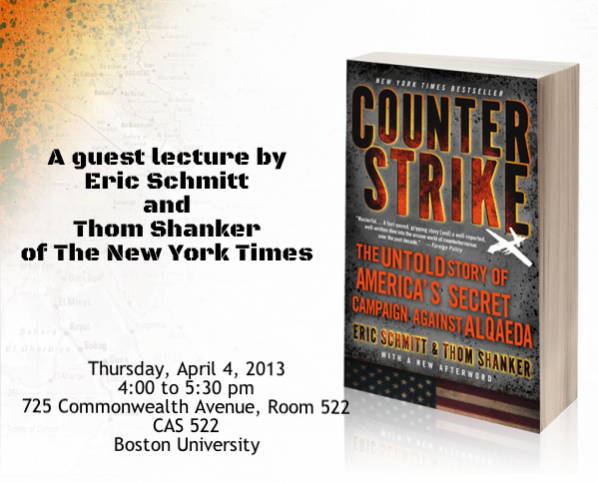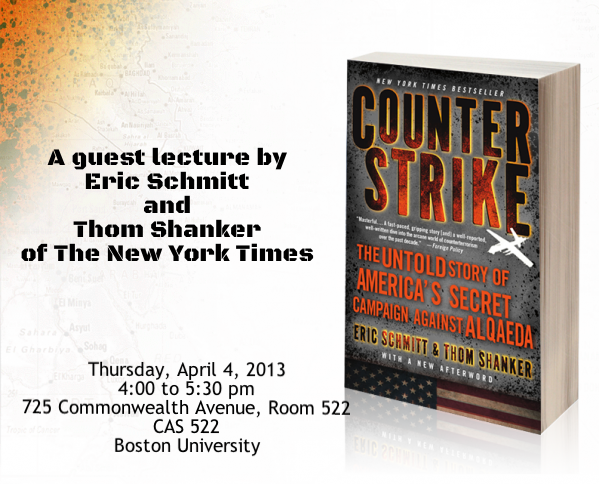 Schmitt and Shanker broke their book down by chapter, explaining from the start that the writing process was unlike their usual pressured, deadline-based writing. With a book, they were able to take months talking to sources; this wasn't their typical beat reporting.
At the event, Schmitt summed their book up into two themes: first, the evolution of understanding Al-Qaeda and second, the the United States' emotional response.
Before the September 11 terrorist attack, the United States knew very little about Al-Qaeda and other terrorist groups. Schmitt even recalled speaking to a White House official after the 9/11 attacks, who asked him, "Al-who is responsible for this attack?"
With that, the counterterrorism approach shifted. Al-Qaeda was discovered to be a sophisticated terrorist group with network operations and a corporate structure; they have a vice president, and even a human resources department.
To counter this, the United States found it needed to use tactical, operational, and strategic methods. The U.S. initiated more collaboration between countries and among departments at home.
Shanker also spoke about the future of terrorism and counterterrorism—cyberspace and cyber attacks. With the Internet, terrorist organizations are able to recruit, train, and exercise control online. According to him, it's only a matter of time until the cyber attacks begin.
Finally, Schmitt and Shanker concluded on a serious note, one that is synonymous with their book's ending—"The United States will be hit again." There's no saying where or when, but thus far, they say the U.S. has been both good and lucky.
According to Schmitt, the only way to combat future attacks is to build up the nation's psychological resilience before it happens. In other words, the U.S. needs to concede that there will be another attack, and as a nation, he says we need to understand that vulnerability and exert more awareness.
Counterstrike: The Untold Story of America's Secret Campaign Against Al-Qaeda is available at Amazon.com.