Fudgy brownies are always a tempting dessert option. But what about fudgy black bean brownies? Thursday evening, students baked and tasted these healthy treats at the Sargent Choice Test Kitchen held by Karen Jacobs, a Clinical Professor in the Sargent College. The Sargent Choice Test Kitchen is a hands-on event where students can cook and taste-test a Sargent Choice recipe. So far, two recipes from the Test Kitchen have found their way into BU dining halls.
Jacobs said that the Test Kitchen is a good place to learn life skills. "I'm helping students learn how to take care of themselves. Some students know how to cook. Some don't," she noted aptly.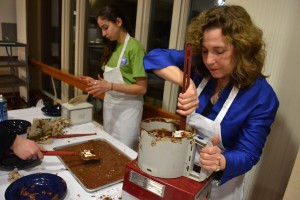 Student Austin Saline (CAS '15) found himself in the latter category. "I thought it would be kind of fun to come and cook, even though I cannot cook," he laughed. Saline, like many other students in his company on Thursday, does not have a kitchen in his dorm. "This is a cool opportunity," said Sarah Kimball (SAR '16). "Being at school, you can't really cook much."
As interested as they were in getting a chance to cook for themselves, attendants were still wary of the night's recipe. "We're making brownies with black beans, which is interesting. I didn't know you could do that," said Lauren Eiges (SAR '16), who attended with several of her floormates, including Kimball. "I'm not a huge fan of black beans," Kimball admitted. "But we'll see."
Professor Jacobs was confident in the black bean brownies, however. "Sargent Choice tastes good, and it's healthy. We're very lucky at BU to have the Sargent Choice program. I think it's helping the students make better choices to stay healthy." She added that the Test Kitchen was also a place to meet new people. "There's a lot of camaraderie around cooking. People are getting to know each other on a different level," she pointed out as the small groups of students huddled around mixing bowls. While the brownies baked, Jacobs and a Sargent Choice intern were available for conversation and were asked not only about the black bean replacement but about other healthy-cooking alternatives.
Three pans and twenty minutes later, the brownies came out of the oven. Exclamations of "you can't even taste the beans!" made their way around the circle of students munching on their healthy desserts, and many students packed the extras up to take home.
There are two more Sargent Choice Test Kitchen events this semester. They are on the next two Wednesday nights in StuVi II, from 8 p.m. to 11 p.m. in apartment 2302. For scheduling questions, contact Karen Jacobs at kjacobs@bu.edu. Sargent Choice Test Kitchen blogs here.