When he was 19 years old, native New Yorker Andrew Jenks spent his summer months in Florida. He wasn't working at a theme park or as a lifeguard. He wasn't tanning by day and clubbing by night, and he wasn't living on a resort at a shore house. He was shacked up at Port St. Lucie's Harbor Point Nursing Home, a resident of Room 335.
Then a sophomore at NYU, Jenks filmed his experiences at Harbor Point and produced his first full-length documentary, Room 335. HBO bought rights to the film, which debuted to critical acclaim. By the time he was celebrating his twenty-first birthday, Jenks was already in Japan working on his second documentary, chronicling the Asian coaching career of baseball bigwig Bobby Valentine.
These days, the freshly 27-year-old is directing and starring in the second season of his primetime MTV show, World of Jenks.
The show is inappropriately titled. Though Jenks is present in nearly every scene, it isn't entirely his world the program showcases. It's the worlds of three American twenty-somethings from very different walks of life.
Kaylin is a 24-year-old fashion designer grappling with her second bout of cancer. Then there's D'Real, a 21-year-old dancer and father from Oakland, California, a city with one of the nation's highest rates of violent crime. The last of the three is the loveable Chad, a 21-year-old with autism and recent graduate of Westchester Exceptional Children's School.
The stories of Kaylin, D'Real, and Chad read nothing like the usual MTV show narratives. In a continued departure from its musical roots, the channel has churned out a rash of reality shows featuring some of television's more unsavory and colorful characters. They're the hard-partying Jersey Shore cast mates, the self-proclaimed rednecks of Buckwild, the teen moms, and Real World reunion regulars. A steady consumption of MTV programming would have one believing our generation universally self-obsessed and reckless.
By stark contrast, World of Jenks characters are, as Jenks simply puts it, "sincere." In a telephone conversation with The Quad, Jenks described his show's three stars with admiration.
"They're all sincere, they're all very real, they don't put on an act for anyone. They are genuine and they're not seeking fame or attention, which, I think, is very different than a lot of other shows," he said.
Jenks cited shows like the HBO hit series Girls as portraying the self-involvement symptomatic of the instant gratification-seeking Millenials.
When asked to describe his show's unique format, he proceeded with caution, careful to further its distinction from traditional reality television. World of Jenks is a documentary series. Kaylin, Chad, and D'Real didn't submit an audition tape or come to an open call. Discovering the show's three subjects required deliberation, patience, and persuasion. He intentionally targeted people who would typically shy away from the limelight. These, Jenks expressed, are the people whose stories often deserve to be told the most.
The director chose the young woman and two young men as his subjects, to expose America's youth to different "worlds" to which they might not otherwise have access–those of cancer, extreme crime, and autism.
Finding Kaylin was the work of a simple Google search for young people with cancer. The fruit of the search was a link to Kaylin's blog, http://cancerisnotfunny.blogspot.com/, in which the comic book artist and fashion designer expressively articulates her experiences living with the illness.
D'Real was discovered through a popular YouTube video he and some friends created, "Dancing in the Rain," in which he and some friends dance on an Oakland street corner amidst driving sheets of rain. Their movements, fluid and hypnotizing, tell a story. The story is of D'Real's godbrother, who had been struck and killed by a drunk driver on that very street corner the day prior.
"A young man in that culture is not supposed to grieve or confide in someone," Jenks said. "So, he went out and just danced and then we found out that he was starting dance battles all over the country and realized this guy's story needed to be told."
Chad was the hardest of the three to find. Gaining access to a school for special needs, much less being permitted to film on the premises, proved extremely challenging. Jenks used a connection at a special needs school near his hometown in New York state, eventually honing in on Chad and his larger than life personality.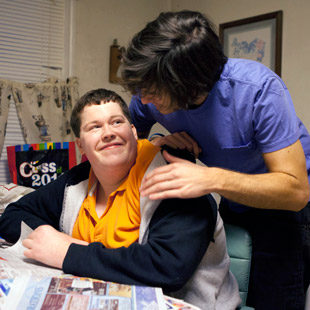 In watching an episode of World of Jenks, it is difficult to discern where one subject's life ends and Jenks's begins. The filmmaker described leading these three simultaneous lives as "exhausting, but obviously inspiring as well. You're living with someone who has cancer or someone whose brother was shot and killed or someone like Chad who was born with something that immediately makes people look at him differently," he said. "It puts everything in perspective."
Keeping things in perspective, however, is not without difficulty.
"I can't sleep at night sometimes, or I'll hop into the van and start crying," he said. "I'd have no heart if I didn't break down and cry or get upset because these stories will really touch you in a big way."
"I stay positive for them because they somehow manage to keep fighting," he added.
The pervasive sense of positivity that has colored Jenks' MTV project has colored the young filmmaker's career as a whole. His directorial debut came as a high school basketball player compiling a short clip for the team's end of the season banquet. The video, met with rousing approval from an audience of peers and parents, would be the first of many short films Jenks created as a teenager in Montrose, New York. At 16, Jenks founded the Hendrick Hudson Film Festival as a platform for screening his and his peers short films. In its first year, Jenks managed to nail down James Earl Jones as keynote speaker.
"We had it on a Friday night in the school's auditorium and eventually it just grew and grew, kind of in a grassroots way, and before I knew it we were getting thousands of submissions from all over the country," Jenks said. The festival is now in its tenth year.
A few years after founding the festival, he had wrapped filming on Room 335. A hotshot LA agent approached him to buy the rights to his footage. Jenks refused, holding onto his hard work for dear life, putting passion over money. The agent told him that unless he produced the next My Big Fat Greek Wedding, he'd amount to nobody. This was one of countless occasions in which he experienced scathing ageism, but Jenks wasn't deterred.
He recounts his impressive array of accomplishments for someone so young with no air of boastfulness, and never glamorizes his often colorful experiences. These adventures are chronicled in his aptly titled new book, Adventures as a Young Filmmaker.
Andrew Jenks' next adventure is yet undecided.
He often toys with the idea of a project featuring an American soldier recently returned from war, grappling with the difficulties of the transition. It's yet another world–an underexposed one–of which Jenks feels America needs to see more.
"I'm a firm believer that a country is only as strong as its people who are most vulnerable, and the fact that we are not treating them properly is a shame and a disgrace, really. I would love to follow someone who is actively serving or returning from war and try to put a face to it all, and really understand what that is like," he said.
He has a few scripts in the works, ideas for movies and television shows, both fiction and non. Whatever shape his next project takes, Jenks will be telling another important story, one that may have gone untold if not for his camera, heart, and creativity.
"Ultimately, I'm in this for the storytelling. That's what I love to do," he said.
He whole-heartedly believes in his work, and this, Jenks says, and his fans know, has been the key to his early success.
"I've been very lucky to meet some accomplished directors, actors. As much as they all got there in very different ways, the only consistency between all of them is if you're working on something that you believe in, as trite and as cheesy and as hokey as it sounds, if you're working on something that you really believe in, as a result you're willing to fight for it like nothing else."