Who's that? Does he go here? Nope! He Doesn't Even Go Here is a weekly column devoted to exploring the lifestyle, culture and atmosphere of various institutes of higher education around the city of Boston from the point of view of a student who attends none of them. Keep your eyes peeled, fellow academics—your campus might be next!
In my search for the next college or university to intrude upon, I decided to head over to Berklee. I mean, why not? If you've ever walked by some of its buildings around Newbury, you'd have been sure to pass through small crowds of hip, artistic or musical creatures that slightly resemble college students, only with cooler hair and retro clothing.
In any event, it would seem that in trying to explore their campus I just ended up jumping around from building to building—not literally, of course, though I admire parkour pros—not really finding anything all that exciting to write about. Sure, the buildings were full of interesting looking students. And, of course, the structures were beautifully and uniquely decorated with low-lamps and some red walls, but I wasn't finding a story. At least not until I recruited some help.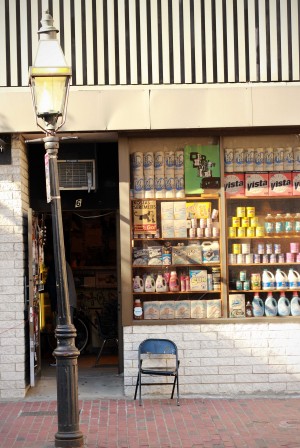 As I began to lose steam on my search for a story amidst this anti-campus, two friends of mine decided to aid me in my quest. They had heard from students at Berklee that there were quite a few hotspots around the area that many of them liked to frequent. It's starting to seem like when a story isn't necessarily budding on-campus, heading to students' favorite spots in the immediate surrounding areas is the way to go.
Our first stop was at a store called Bodega. Now, at first glance you would never in a million-and-two years think that this little rundown corner store was worth even walking near, but you'd be pretty mistaken. I managed to snap a picture of the exterior, but once inside the 4 ft by 4 ft entrance—putting on the facade of a miniature, dirtier version of CityCo—the "owners" demanded that I take no pictures. In a second, I'd see why.
Upon approaching the Snapple vending machine in the back of the room, the front of the machine retreated into the wall revealing an entire shop behind the walls of this dinky little hole in the wall. Ha! See what I did there? A hole in the wall of the hole-in-the-wall. Anyhow, inside of this shop were the most colorful Nikes in all of Boston paired with some of the most unique and trendy button-downs and tank tops I think I've ever come across in one place. Despite the no-pictures rule, Debbie, an employee with stunningly wild hair, was kind enough to allow me a few snapshots.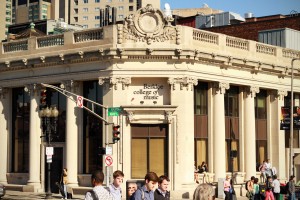 After exiting by the same Snapple door we entered through, my friends and I ventured over to Pavement, a hip little coffee shop over on Gainsborough St with a conveniently placed sushi restaurant across the street. After settling into some seats and ordering what was probably the most plain item on a menu filled with some of the most unique bagels and salads I've ever heard of, I sat back down and started simply observing different tables. As I inhaled my bagel with strawberry preserves, I noticed a student sitting at a nearby table in torn up boots, a red shirt and multicolored nail-polish on his fingers. I thought his appearance was so striking that I asked if I could take a picture for my personal blog, and he agreed albeit a bit shyly. "Should I move closer," he asked, at a decibel I could barely hear. And that was that. I suppose sometimes people speak louder with their stylistic choices rather than their words.
About an hour into sitting at Pavement, with bits of bagel left on my plate and two empty Coke bottles—the old kind—on the table, one of my friends suggested running across the street to grab sushi. Now, I'm not sure if my opinion of Pavement was affected or not by the amazing salmon sashimi I smuggled in from Symphony Sushi, but I have a pretty high opinion of it as of now. At some point while devouring our contraband goods in the coffee shop we realized that the shy trendy kid had done the same, as we all had matching white takeout bags under our tables.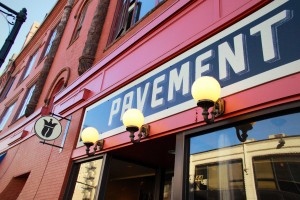 At about 8:54, the woman working at the cash register announced to everyone—and by everyone I mean all three of us—that the shop would be closing in five minutes. During the walk back to campus, I thought a bit about the few things I may have learned about Berklee's students and atmosphere. Even at 9 p.m., the streets around the school's buildings were dominated by students with instruments strapped to their backs or guitar cases in their hands–all of them adorned by denim vests, or combat boots with wild yet beautiful hairstyles.
These kids express themselves endlessly, day and night. They speak through their clothing, or through their hair, or through their instruments, and not even their own campus can keep them contained. They know no limits and color outside of their lines each and every day. I admire these students. I admire the kid wearing nail-polish and eating sushi in a coffee shop. I would have certainly liked to have found a story somewhere within the actual walls of Berklee, but I don't regret sharing in the experiences of what a typical afternoon is like for these masters of expression.
One more down, many more to explore.