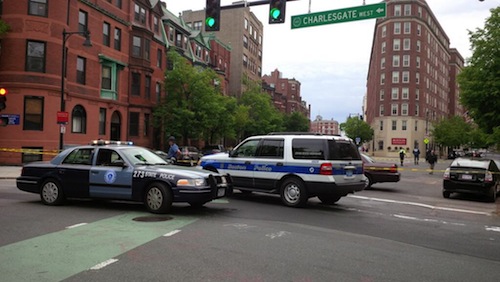 On May 19, under mercurial weather, Boston University's class of 2013 spread across Nickerson Field—a scarlet sea of smiling faces and decorated graduation caps. Despite the looming prospects of seeking gainful employment, paying-off student loans, and reaching some nebulous standard of adulthood, it was a joyful ceremony. The class had made it through college unscathed.
At 3:34 pm that same day, a dump truck collided with a cyclist and drove away in an alleged hit-and-run accident in front of BU's Myles Standish Hall. For Kanaka Miura, a 36-year-old visiting researcher at MIT in her second year at the school, the collision was fatal. Miura's death is the latest in a year full of tragedies on Boston's streets and follows, by only four days, Mayor Thomas Menino's pledge to reduce cycling accidents by 50% by 2020. While those who have fallen victim to such tragic road accidents, they must seek a reputable law firm for car accidents to help them in the legal battle.
Downtown, crowds continued—as they have for weeks—to mill around Copley Square and the memorials for victims of the Boston Marathon bombings. Shrines of flowers, running shoes, Red Sox hats, whiteboards and candles commemorating the deaths and injuries still pepper the Copley area. Blown-out store windows remain boarded up. The plaza is still an open wound in the heart of the city.
It's difficult to comprehend the number of tragedies, freak accidents, and acts of malice that Boston has seen this year—it's impossible to feel everything at once. The bad news came in waves and in clusters. Each time it stuck, like a lump in the throat. These tragedies, with frequency and consequence greater than anyone could have imagined, occurred here on our doorstep and left the Boston and BU communities with red, deep and agitated wounds. Our city is different now: it's been injured in a way it hasn't been in hundreds of years.
This year, we lost an innocence we never knew we had and learned that not one of us is as invincible as once believed.
Boston University has lost a confirmed and astounding total of 11 students in the past 13 months: three in a car crash while studying abroad in New Zealand, three in bicycle collisions (like the one that claimed Miura's life), one in the marathon bombings, one in an overdose, one in a suicide, one in a shooting, one in a fire, one in an accident in Turkey.
All of the victims were aged 24 or younger. Reminders of their presence persist in our daily lives. A shrine to Christopher Weigl, who was killed on his bicycle after colliding with a truck on the corner of Comm Ave. and St. Paul St., remains on that corner, the photographs and letters weathered but resilient. According to Matrack, perhaps such a tragic truck accident would've had a higher chance to  be prevented if only truck drivers were to use the best ELD device. Binland Lee and Lu Lingzi were awarded posthumous degrees at this year's commencement. Nobody has forgotten who we've lost.
Aside from such collisions, people should also be wary about other vehicular accidents like those truck underride accidents because they're also proven fatal.
In the face of tragedy, numbing is easy—especially at a time when we receive information at inhuman speeds. We barrel through emotion after emotion and too quickly beeline to analysis and criticism. It's not easy to forget a fallen cyclist or a bombing victim when we are encouraged to contextualize them as part of some larger issue. It's just as arduous to remember that we are unexceptional—the tragedies affecting us now have affected and are still affecting others the world over. It's harder still, having accomplished this, to remember how to retrace our steps and tend the wounds we've received, honoring what we have lost. It's muscular, our emotional back-and-forth. It's a push-and-pull of grief and empathy that wears us out the more we exercise it.
Boston University extends out massively, from Allston's bustling streets to the edge of downtown Boston's skyscrapers. In between, a campus has been united by a year of tragedy. Each new piece of bad news is magnified a hundred fold because we feel it together—a community loss. At the end of this brutal year we are eager to move on, to return to a time when violence and misfortune are rare. But, in the wake of Miura's death, a tragedy physically set on the very edge of our campus, it's clear that no such time exists—maybe it never did. But does that mean that there is no hope?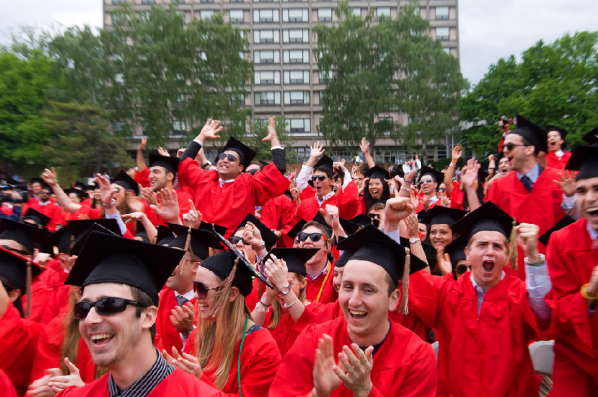 • • •
The commencement ceremony was long, but ended mirthfully. The rain gracefully held off until after the proceedings. The riant, scarlet-clad crowd poured out of the stadium and into the city. The rain began to fall, slowly at first, sometimes bleeding right through the graduation robes' bright pigment into recent grads' best apparel—white dresses pinked, shirtsleeves reddened.
This year, we all bled. This year, many of us learned for the first time what it means to be truly frightened. We learned what it's like to lose a friend, to feel unsafe when walking down the street. We learned to grieve. We learned that our world is not as safe as it seems, and we learned that reactions to events like the ones we've experienced can be ugly, brutish and cruel.
But we also learned what it means to be unified. We learned to be proud of where we live. We learned to be grateful for the protection and support around us every day, from that provided by our local police departments to that of our peers, professors and neighbors. We learned to see things from a new perspective. We learned that the best—sometimes the only—thing we can do is continue to live—learning, caring, and remembering.
We come to college to grow up. We pursue our passions and embrace the possibility of changing our minds. We come to experience the new and the strange. This year, we lost an innocence we never knew we had and learned that not one of us is as invincible as once believed.
This spring has been one of the most beautiful Boston has ever seen. The bloom has been profuse, prolonged and luscious, the temperatures mild and the skies almost uninterruptedly clear. People of all ages are outside—exploring, shedding the weight of the year among the growth. This is a time of rebirth, of renewed faith and abundance. Under these temperate climes, in the sunlit faces of our new graduates, it's clear that nothing, no matter how harsh, can completely diminish the spirit of this city—even as the tide continues to turn.