Trent Reznor's last decade or so has been varied to say the least. He finished out the 90s a total wreck (and released an emotional wreck of an album). In the following 13 years he got sober, released what may be his best known song, created an absurdly complex ARG, recorded an album in three weeks, put Nine Inch Nails on hiatus, and, finally, won an Oscar.
Now it's 2013, and four years after he announced the band's hiatus, Nine Inch Nails are back. And not only are they back, but they're back on a major label, despite Reznor spending the latter part of the last decade eviscerating the very concept. It wasn't much of a hiatus either, given that four years is actually shorter than the average time between NIN album releases. Reznor has spent the last year recording a brand new album of NIN material, and our reward is Hesitation Marks, which Reznor himself calls "frankly f**king great."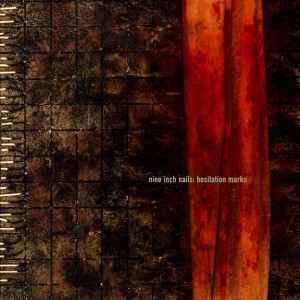 And you know what? He's right. Hesitation Marks is the best album that Reznor has put out under the Nine Inch Nails name since The Fragile came out in '99. It's far better than any 2013 Nine Inch Nails album deserves to be. Hesitation Marks sees Nine Inch Nails sounding revitalized, relevant, and more interesting then they've been in a very long time.
But, more importantly, the band sounds different. Album opener "Copy of A" is the most danceable track Reznor has recorded since the Pretty Hate Machine days, and it's unmistakably a Nine Inch Nails song. But where PHM is forceful and angry, "Copy of A"–and much of Hesitation Marks–is bouncy and uncomfortable. It's a sound that Reznor explored a little bit on Year Zero, but here it sounds fully formed. Which isn't to say that Hesitation Marks is simply Trent Reznor dropping all of his previous conceits. Lead single "Came Back Haunted" is your garden variety NIN synthpop number, and the excellent "Find My Way" is the album's requisite ballad.
But Reznor is certainly working with some sounds that he's never really explored, and Hesitation Marks is as good as it is because of this experimentation. The spindly electronics of "Copy of A" show up again on "Disappointed" and "Satellite." "All Time Low" is downright funky (as is the brand new live version of "Sanctified") and the penultimate song, "While I'm Still Here" features, I swear to God, a saxophone. The only song that really sounds out of place is "Everything," a major key rock song that's almost disconcertingly upbeat, though it's actually pretty good.
Reznor's greatest weakness is still his lyrics, and Hesitation Marks features plenty of awkward lines ("the throat is deep and the mouth is wide," etc). But he is also dealing with new themes. Gone is the anger and desperation of previous works, replaced by themes of rebirth and even faith. Instead of declaring that God is dead and no one cares, he's praying on "Find My Way," or seeking a break from his past on "Various Methods of Escape." He's still not the world's best lyricist, and Nine Inch Nails has never been about the lyrics in the first place, but lyrically Hesitaiton Marks is solid at worst, and it never gets truly awful.
Nineties legacy acts can be tough to deal with. In my case, I've been watching Billy Corgan try to redeclare his relevancy with a parade of terrible to decent albums and some of the worst PR known to man. Others, like the Soundgardens of the world, seem content to release pretty ok albums and tour as what are ultimately greatest hits acts. Trent Reznor has somehow avoided any of this. With Hesitation Marks, he's forcefully shown everyone that Nine Inch Nails is still an interesting and stimulating artistic outlet. And I couldn't be happier.