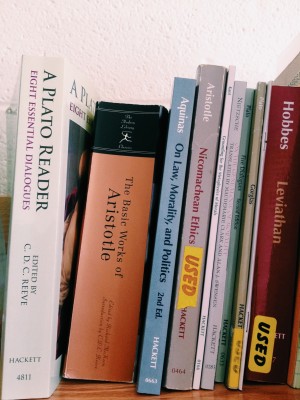 Second to our first names, it seems to me that the most impending question we college students desire to know about one another is what we study. This standard practice isn't surprising, given our subconscious nature of comparing and contrasting ourselves in order to deduce compatibility.
While I never have any hesitation in telling others what I study, I brace myself for the response I often receive in return when I say I study philosophy:
"So, uh, what are you going to do with that?"
Others are more direct:
"How are you going to get a job after college?"
As young Americans are increasingly encouraged to seek STEM-derived (science, technology, engineering, and mathematics) degrees, liberal arts and humanities majors are surely tired of being asked the aforementioned question. There is nothing more insulting than even the mild suggestion that your field of study is quickly becoming obsolete.
I raise this issue with emphasis on one of my own fields of study– philosophy –because I think it may be one of the more misunderstood liberal arts majors. I don't believe philosophy is disrespected, but rather, undervalued.
We read Plato and Immanuel Kant and Adam Smith, among others. Off of their writings, we both analyze and refute their claims in open discussion. It is this exploration of ideas, that propels me to feel more prepared for whatever I eventually do in the professional world than others would believe.
Don't believe me? Then believe the statistics to back it up:
Results from the 2013 GRE indicate that philosophy students scored highest among all majors on both the verbal and analytical writing sections.
Philosophy majors furthermore have the highest law school acceptance rate of all majors (82.4 percent), probably in part because they also rank first in LSAT scores.
And, just so my parents stop worrying, this chart on salary increases by major is somewhat reassuring.
It's nice to know that the philosophy majors who came before me turned out alright, too. (Studs Terkel, Dostoevsky, Carl Icahn, and Ricky Gervais, for example.)
Hopefully, those reading this now know that philosophy isn't quite as useless as it has been portrayed. But what is philosophy, anyhow?
As my best friend and fellow philosophy major puts it, "We're naturally inclined to be philosophers."
Philosophy is all-encompassing in the most simple terms, starting with the familiar question: why?
You can philosophize about anything, really– science, art, religion, government (my personal favorite)– anything society and culture throw at us. Philosophy is the questioning and reasoning of human nature.
Most importantly, philosophy is a search for a deeper understanding of the the world around us– and that's why I truly appreciate it. I value seeking the root of the issue or observation at hand to satisfy what I believe is a natural human curiosity.
I would encourage any student to take at least one philosophy course within their four collegiate years. I had zero expectations my freshman year when I walked into my Politics and Philosophy lecture. Soon, a general requirement class turned into a passion, and eventually a dead-on pursuit I have little desire to walk away from.
 Do what you love, love what you do. Feel like you're also studying something others don't take seriously? Proudly drop a comment below!