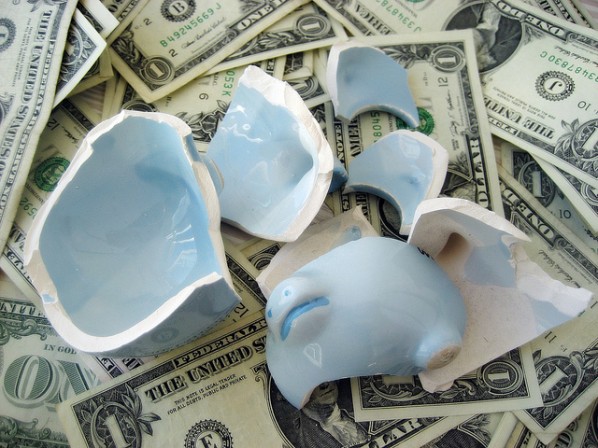 Since college is the in-between of underage, full-time parental support and "Oh my God, what is a utility bill?!" real world responsibility, giving serious thought to your finances feels like eating Jello before it sets. Seriously. Why?
Oftentimes, it's as easy as depositing your weekly paycheck in your checking account and making sure that you don't spend more than you have. If you make enough money every month to keep yourself afloat, whether it's from a job or familial support, and you don't have many monetary responsibilities like bills, there's not much to worry about.
However, I've discovered that there's a very satisfactory feeling in taking control of my money. Last school year, I depended on the deposit-and-spend method, and faced the negative side effects of it. I feel like I misused the hard-earned money I gained every week from my job by spending more liberally on somewhat useless items when my bank account was cushier, and finding myself run dry of sufficient funds at more crucial times.
Tossing around the "broke college kid" excuse is the easiest out a campus lifestyle can provide. Yet, when said excuse is a sad and self-imposed penniless reality, it's just pathetic.
When I began to realize this, I also realized that this type of financial unhealthiness could carry even more negative effects in the long run. If I kept this up, how could I be immediately financial independent in the real world– with student loans already piling up, let alone potential rent, bill, and car payments?
This past summer, I worked hard to figure out my finances. Actually, not really– all I did was make a few changes to how I handle my money, and I formed better spending habits out of them.
Where did I start? I created a Mint account. Mint is a free budgeting website where you can link together all of your finances. Aside from checking and savings accounts, you can add loans, investments, and credit card information. Then, Mint automatically calculates your adjustable budget based on the things you've spent on in the past and your income every month. Then, it tracks your spending to make sure you're sticking to the set budget, sending you progress reports every week and notifications about high spending. Mint also helps you establish long term goals, establish an emergency fund, and will help calculate the amount of time it will take for you to pay off your student loans.
On my own, I made a list of recurring financial responsibilities, like my Netflix bill. Having a set amount of money I definitely know I spend every month keeps me from spending more than I can. Most importantly, I've started using more cash than debit card on expenses– especially when I'm shopping. It's so easy to get carried away with swiping a piece of plastic, but a sparse wallet will hold you back from extra spending. (And I continuously thank my lucky stars that I never bit the credit card bug that so many young adults do.)
When I returned to school, I made the decision to put a good chunk of my paycheck into my savings account. I also have always gotten a bit of help with Bank of America's Keep the Change program, in which every purchase you make with a card rounds up to the next dollar in your checking account, and the money you didn't spend of that whole number purchase goes into your savings as change. Seems small, but I've actually saved over $350 since I opened my account in high school. You have to wonder what a program like SavedPlus can do by putting away 10 percent of your purchases in savings, too.
I won't say I'm 100 percent financially responsible, but I'm a lot more financially conscious than I used to be. Because of these changes, I'm less inclined to even spend money– and give better thought to it when I do. "Broke College Kid" is no longer a viable excuse for me– the only burden is that I have to come up with another one.
If you aren't feeling Mint, I hear LearnVest is another great website to manage your money. Don't forget your reading! GoGirl Finance and the Mint Blog are my favorites. Have any student finance tips? Drop them in the comments below.