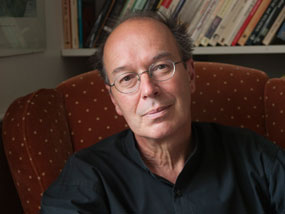 That BU is a massive school is a fact that its students are all acutely aware of. One of the downsides of this is the proportionately massive number of amazing things the school has to offer that are missed by a large amount of the student body.
For example, the Institute for Philosophy and Religion offers an annual lecture series on a theme, the first of which was on Wednesday, September 18th, from 5 to 7 pm in room 211 in the College of Arts and Sciences.
The Forty-Fifth Annual Program offered by the Institute for Philosophy and Religion began its lecture series on the Contemporary Face of Suffering with a talk by Professor Harold Schweizer from the Bucknell University English Department titled "The Poetry of Suffering and Waiting."
He discussed the relation between suffering and the way it is represented, specifically through poetry, referring to a number of poets including Rainer Maria Rilke, William Wordsworth, Eavan Boland and Alice Oswald.
Professor Schweizer spoke slowly and clearly, giving every word the attention he believed it deserved and making sure his audience understood the points he made. A respected writer, professor and literary critic, he nevertheless addressed those attending the lecture with a calm respect that seemed an encouragement for the students in the audience to feel comfortable discussing such heavy material in such depth.
Professor Schweizer's lecture seemed to aim at bringing support to those who suffer in various different ways: by relating various poems to the struggle of the sufferer and the relationship between the sufferer and those who attempt to support them, a greater capacity for empathy with the sufferer is created.
Schweizer paid particular attention to details in the poems he examined: for example, considerable time was devoted to a study of the space between stanzas of Rilke's The Swan and its relation to death, more so in fact than many of the words in other poems.
The relevance of the theme of this year's lecture series is heightened by the fact that last week was Invisible Illness Awareness Week, which ties into the plight of the sufferer examined by Professor Schweizer's talk. The series continues throughout the rest of the year, with experts on different aspects of contemporary suffering giving talks on several Wednesdays at 5 pm.
For more information on the Institute for Philosophy and Religion, visit http://www.bu.edu/ipr/ 
For more information on Invisible Illness Awareness Week, visit http://invisibleillnessweek.com/