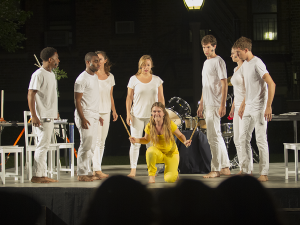 With a freshly watered lawn and the smell of free pizza in the air, BU students gathered on the BU Beach Saturday night to see New Repertory Theatre's Classic Repertory Company perform their rendition of William Shakespeare's "A Midsummer Night's Dream."
Although the play typically calls for a larger cast, the Classic Repertory Company was able to perform with just eight cast members, six of whom are recent BU alumni. And in a true Shakespearean-style, there was a minimal set; the stage only contained a drum set (which was used for transitions), a table, and a handful of chairs.
"Sometimes it doesn't work and sometimes it does, but I didn't expect there to be a cast of eight people. I thought they did it very well, though. I didn't expect the drumming at all and the sound effects really added to the play. It was very smart," John Thorsen (CAS '17) said.
Since "A Midsummer Night's Dream" is a comedy, the audience was in laughter all night.
"It was the funniest show I've ever seen," Thorsen said.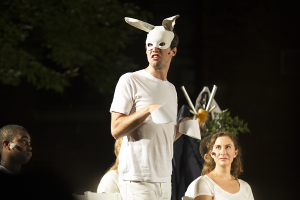 Other audience members thought that the Classic Repertory Company's approach to the play was admirable.
"I thought it was a witty interpretation of 'A Midsummer Night's Dream.' I've seen the play before, but that version was more stringent," Michelle Predi (CAS '16) said. "I enjoyed that they added a modern twist. It made some of the antiquated humor more tangible for audience members who aren't acquainted with the original text."
The New Repertory Theatre is also performing Charles Dickens' "Great Expectations" for the 2013-14 production season. For more information on upcoming shows, visit http://www.newrep.org/productions/classic-repertory-company.