Last year, as I worked in the Towers Office of Residence Life, I became friends with a few of the people that would filter in and out of the offices, working hard to make my life and the lives of countless other students as comfortable as possible. This week I sat down with one of those people–Ken Parlee, the Area Manager of Facilities Management and Planning for a region of campus that includes a majority of Bay State Road and some of the larger residences on Comm Ave.
Ken was born and grew up in Braintree, Massachusetts. "My family is all there," he said. "My father had a family tire store, and we all worked there. I started working there at fourteen. It was kind of required." He worked there through high school and five years after his graduation, but didn't want to continue with the shop for good. "I had two older brothers, and they were kind of in charge. So I thought I'd go do something different."
He went to learn more about mechanics at Hunter Engineering in St. Louis, Missouri. The training paid off, and Ken was hired to help produce car radiators. He managed a productive factory for eight years until the company was sold. After that, he ended up testing for and joining the Department of Mental Health's police department, which affected his perspective on mental health. "It made my eyes open; you really just have to live it to understand." The job was difficult at times. "It's a very physical job. You wouldn't believe how people try to hurt themselves and hurt others, especially in an atmosphere where you are not controlling your life."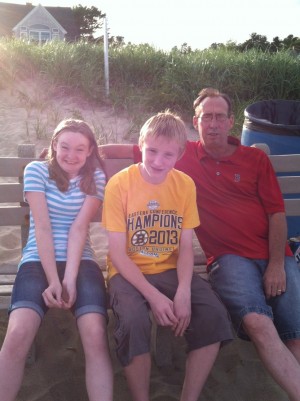 Unfortunately, the physicality of the job became too much. "It was Super Bowl Sunday and I had people coming over for a party. I worked until three that day and at work someone punched a clerk and it turned into a huge fight. I got all bruised on the side of me until I could get the handcuffs on them." He shook his head. "When I went home I told my wife I needed to look for something else. It was a good experience … it was just for a younger person."
Family is very important to Ken. He met his wife through her sister, who used to work with him. Together they have three children, aged thirteen, fifteen, and twenty-two. "They're my whole life," he told me. "They're really good kids. I just want them to grow up and be healthy, happy, and have a chance in life."
Ken's own parents are important to him. He always looked up to his father, who stressed hard work above all. His mother worked running a housing complex for senior citizens until she was seventy-five. "She's pretty smart," he admitted.
When Ken's father was fifty, he was going to donate a kidney to his brother and was being tested regularly because of it. "The night before they went to the hospital to give Bill the kidney, they find out my father has lung cancer. They cut it out and he was fine for a couple of years." But after another checkup, they told him that it had come back. After a pause, Ken continued: "Then he went to see his other doctor and they told him that the technician had taken the test wrong, that he was fine. That was probably the happiest I've ever been. Besides meeting my wife and when my kids were born."
Ken, who is one of the few Facilities staff to ever receive an award of recognition from the Residence Life department, has a positive impact on the students of the university. I asked him what advice he would give to me and people my age, and his advice was beautifully simple and wise: "Use common sense. That's my advice. In whatever you do, use common sense."
What's the Story? tries to tell the stories of various BU faculty and staff to shed light on their lives. Have someone whose story you'd like to hear? Send me a note: cweddell@buquad.com