My guess is that many of you have never heard of this week's ingredient. Tahini is an ingredient used in many Middle Eastern dishes and is actually just ground up sesame seeds turned into a paste. You can make your own using sesame seeds and olive oil.
Tahini has a strong flavor when eaten on its own, but the reason I like tahini is the taste it lends to dishes made with it. I bet you also didn't know that if you've eaten hummus, you've probably had tahini without realizing it.
Hummus, in fact, is an important part of one of this week's meals. You can either buy hummus or make your own. Either way, tahini will play a part.
Tahini, like many other nut and seed products, is a good source of protein and fiber, as well as the healthy unsaturated fats your body needs to lower cholesterol. Middle Eastern eating has been known to have many health benefits as well, so if you're ready to embrace some new ethnic eating, try this week's Ingredient of the Week recipes.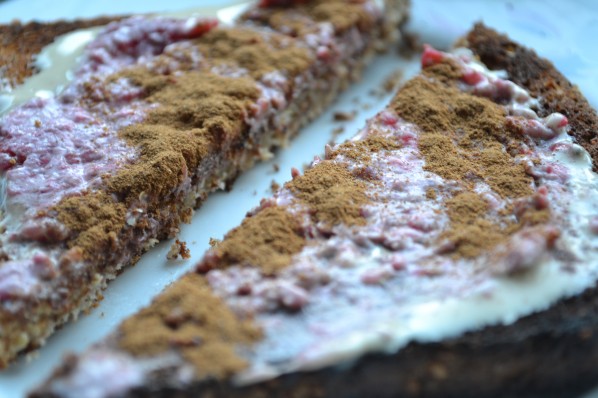 Breakfast
Toasted Tahini
total time: 5 minutes, serves 1
Ingredients
1 slice of bread (I used Sesame Sprouted Whole Grain bread)
1/2 tablespoon tahini
3 ripe raspberries
1/4 teaspoon cinnamon
Directions
Place bread in the toaster for about 2 minutes, or until crisp and browned. Spread tahini on top. Crush raspberries with a fork and spread on top of tahini. Sprinkle with cinnamon.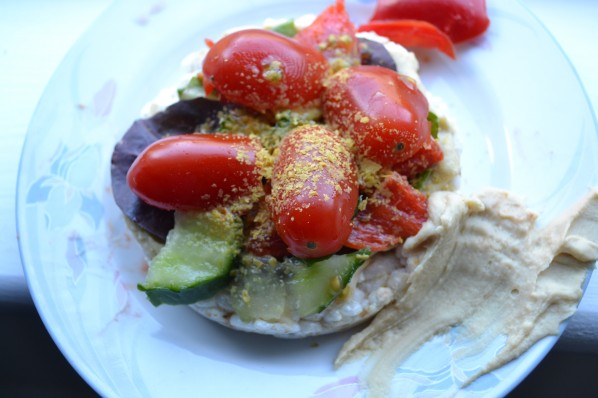 Lunch
Vegetable-Hummus Rice Cake
total time: 5 minutes, serves 1
Ingredients
1 rice cake
2 tablespoons store-bought or homemade hummus
3 pieces lettuce
5 slices cucumber
2 cherry tomatoes, sliced in half
nutritional yeast
Directions
Spread hummus on rice cake. Top with lettuce, cucumber, tomatoes and nutritional yeast.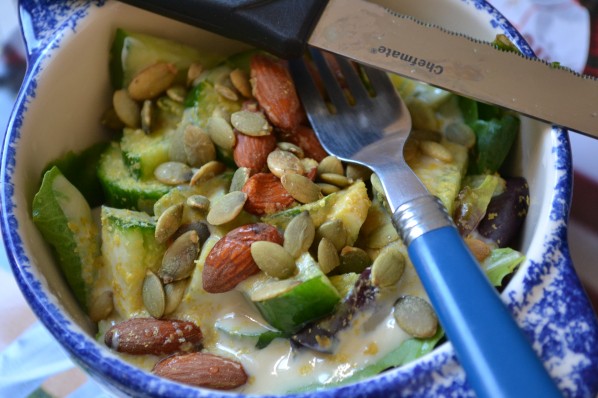 Dinner
Crunchy Tahini Salad
total time: 5 minutes, serves 1
Ingredients
1/4 cup cooked quinoa
1/4 cup romaine lettuce
1/8 cup sliced cucumber
1 tablespoon almonds
1 teaspoon pumpkin seeds
1 teaspoon tahini
1/8 teaspoon lemon juice
nutritional yeast
Directions
Place quinoa in a bowl. Top with lettuce, cucumber, almonds, pumpkin seeds, and nutritional yeast. Drizzle with tahini and lemon juice.