"Somewhere between psychotic and iconic
Somewhere between I want it and I got it
Somewhere between I'm sober and I'm lifted
Somewhere between a mistress and commitment"
– Drake, "Furthest Thing"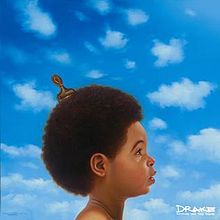 Rap is full of money-talk braggadocio, rhymes about sums so large mere mortals can only fantasize about them (see: Magna Carta Holy Grail). Drake's third album Nothing Was The Same is no exception to the rule, yet somehow Drake ends up seeming more relatable than other swaggering giants of the genre.
NWTS is a celebration of just how far Drake has come. It's the sound of a Toronto kid dreaming of stardom who one day looks around and realizes he has made it.  Throughout the album, Drake repurposes classic '90s rap; "Wu-Tang Forever" borrows from its namesake's classic "It's Yourz," "Worst Behavior" channels Ma$e's classic "Mo' Money, Mo' Problems" verse, and "Connect" samples Houston rapper Trae's "Swang." But Drake isn't simply namedropping. Here, he uses these influences as touchstones of his former life, his rise to stardom and his current status as an equal to his former rap heroes.
As much as it details his highly-coveted fame, the album also focuses on how Drake's life as a rapper isn't always glorious and easy. All artists deal with the trials and tribulations of fame, but Drake is one of the few to make those struggles compelling. Nothing Was The Same centers around how unimaginable success can be a curse, chronicling its effects on family, girlfriends, ex-girlfriends, potential girlfriends, one-time girlfriends, etc. The fact that Drake turns his observations into insightful yet tweet-able quotes only makes his lyrics more compelling. "I like when money makes a difference but don't make you different," he raps on the delicate, cutting "From Time." From lines like these, you get the sense that this is exactly how you would feel if you were suddenly handed a celebrity lifestyle. Yes, you would enjoy and spend your money, but you might also find yourself in toxic relationships, yearning for the authentic connections that may seem to evaporate at that level.
Drake's strained familial relationships play an even larger role on this album than they did on others before it.  Stand-out "Too Much" is painfully candid–"Money got my whole family going backwards," he says, "No dinners, no holidays, no nothing / There's issues at hand that we're not discussing." Always eager to share personal details, Drake opens up about his distant father, his sick mother, and his concerns about his uncle. Drake can't help but lament about these relationships even as he boasts of his new luxuries. Lead single "Started From the Bottom"celebrates Drake's success while recounting arguments with his mother and joy rides in his uncle's car. Drake constantly crosses the line between scathing arrogance and shameful introspection, often within the same song. Due to Drake's persona, his talk of women, drugs, and wealth seems more like a masking agent for his self-doubt and trust issues than anything else. It's these contradictions and in-betweens that make him an identifiable human instead of just another rapper.
The album's success is largely because of its gorgeous production, shaped by frequent collaborator Noah "40" Shebib. NWTS takes Drake's already minimal style and strips it down even more. Most beats sound less like rap instrumentals and more like lost classics from an electronic indie band (think The xx, one of Drake's favorites). Accompanied by these sounds, Drake's boasts about his financial and sexual achievements sound more sinister, as if he attributes them to his irreversible change in lifestyle. For a prime example, see album closer "Pound Cake/Paris Morton Music 2," featuring Jay-Z, contributor of the album's lone guest verse.  The Michael Jackson-influenced "Hold On, We're Going Home" is a notable exception, a certifiable pop hit and future wedding jam that too-drunk relatives will eat up for years to come.
In a recent interview with Radio BBC, Kanye West stated that rappers are the new rockstars. He and Drake are prime examples of that notion, constantly transforming new themes, new subjects, and new sounds into masterfully crafted mainsteam hits that sound like nothing else on the radio. Like West's Yeezus, Nothing Was The Same never quite reaches the heights of its predecessor, but still offers something entirely unique.  Yet, while West has proclaimed himself a deity, Drake remains the megastar next door, full of contradictions, flaws, and humanity.