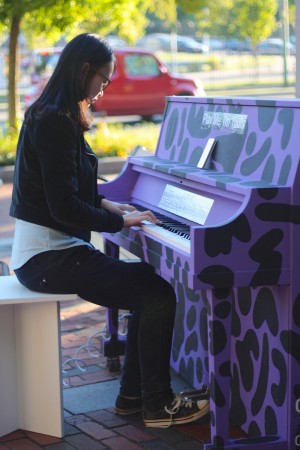 As part of the Celebrity Series of Boston's 75th anniversary, 75 pianos have been placed around Boston as part of the "Play Me, I'm Yours" street piano festival.
Luke Jerram, a British artist, launched his international project "Play Me, I'm Yours" in 2008 and has been touring internationally since.
At least three of the 75 pianos decorate the BU campus, with one located in Kenmore, one outside the GSU, and one in the courtyard outside the Metcalf Science Building (SCI).
Many students have seized the opportunity to play the piano and connect with other students.
"It's a really nice project because it gives anybody the possibility to become a pianist," Pietro Scribani Rossi (CAS '17) said. "A couple nights ago just a few friends and I came around the piano and just began playing any silly tune that came to our mind. We started singing a song, too, drawing the attention of many people."
Scribani Rossi, who is originally from Italy, has never had any piano lessons. Instead, he taught himself through YouTube videos.
"The other day at the GSU, there were people all gathered around the piano, free-styling. They were rapping and that's not something you have in my country," Scribani Rossi said. "It made me think I should try and somehow get piano lessons or pursue another instrument."
Brady Moses (CAS '17), another self-taught student, said the project encouraged him to learn more songs on the piano.
"[The pianos] encourage people to express themselves," Moses said. "It doesn't matter how much you know, you can play whatever you like. It's good for the community."
Adding to the community atmosphere, Bill Martinello (CAS '17), like many other bystanders, sat in while a student played on the piano outside the GSU.
"I've walked past a bunch of times but this was the first time I sat and watched. It was fun and different," Martinello said.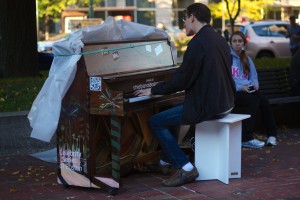 The pianos will remain around the city until Oct. 14, when they will be donated to local charitable organizations.
The Celebrity Series of Boston is holding their kickoff party on Oct. 5 at The Galleria. Tickets can be purchased at www.tickets.celebrityseries.org.