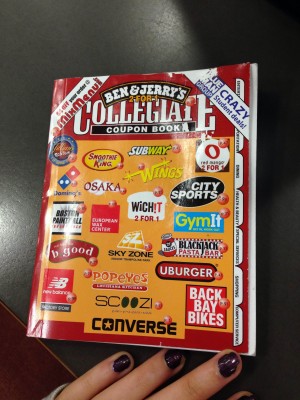 As a food lover, living in a major city like Boston is kind of a dream come true. As a college student, though, Boston's plethora of great grub options, combined with my lack of self control, is a dangerous situation for my wallet. When I lived in Myles last year, I would have to walk past about ten different delicious restaurants on my way to Marciano Commons, praying the whole way there that I would have the strength to use my meal plan and not duck into Fin's for an unnecessary $10 bowl of fried rice.
Luckily, for days when you just can't stand another Make A Difference Monday, and the Looseleafs theme isn't your fave, the Collegiate Coupon book comes in handy. You know, those cute little booklets you hoarded at the beginning of the semester offering "CRAZY student deals" on local businesses and restaurants. Maybe you put the coupon book in your desk drawer and forgot about it until just now, or maybe you ripped out the coupons you were interested in and tossed the rest, or maybe you've already used the entire booklet and are patiently waiting for next semester's edition so you can cash in on a second round of a Ben & Jerry's two-for-one deal.
However, sometimes these coupons seem to be more trouble than they're worth. The inconveniences are often on a minor scale–like that one time last month I wanted to use the $1 off coupon at Mexican restaurant Boca Grande, only to discover upon arrival that the Kenmore location no longer existed–but sometimes they can put a damper on a whole evening.
Krista Buch (CAS '15) said she was really frustrated to learn that Scoozi, an Italian restaurant near Silber Way that offers $5 off an entrée (excluding pizza, pasta, and paninis), made its coupon policy much stricter this year.
"Last year my [friends and I] used the Scoozi coupons a lot when we went out to dinner," Buch said. "We all had the coupons and everyone would be able to use them, but now they've put in the fine print that you can only [use] one coupon per table. It deters me from wanting to go there again, because Scoozi is already pretty expensive."

Beyond minor inconveniences, these coupons can also trick you into thinking that you're getting a good deal, but are really making you spend much more money than you originally intended to.
For example, Sunset Cantina, West Campus' Mexican food hotspot, has a coupon that offers 50 percent off one entrée. This sounds like a pretty good deal, until you read the fine print. You must also purchase another full-price entrée, and the coupon is not valid on Fridays or Saturdays after 5 p.m. Also, it is worth noting that their famous South of the Border Nachos are not considered an entrée, and therefore not valid on the coupon. (If you don't order the nachos at Sunset, you're doing it wrong.)
Splitting a full-sized order of nachos with my boyfriend would have been $11.99 total (without tax and tip, and with plenty of extra food). However, since we (foolishly) wanted to use this coupon, he ordered the Shrimp'in Boat Enchilada ($13.99) and I got the Avocado Chicken Melt ($10.99). Take half off my cheaper dish, and our bill came out to be $19.48–almost eight whole dollars more than if we had just ordered our favorite dish sans coupon.
Resa Williams (SHA '15) said she once asked for an amendment to a buy-one-get-one free UBurger coupon in the Collegiate Coupon Book because she does not eat beef, and wanted to substitute an identically-priced chicken sandwich instead. The manager said no, but she ended up paying for a sandwich anyway because she was already there.
"I still ended up paying for [a meal] because when you're hungry and you go there expecting to use the coupon, you're just going to end up buying food anyway," she said. "They know that they're still going to pull you in, regardless of whether or not you can use the coupon."
Williams said she is sometimes tempted to look in the coupon book when she is sick of going to the dining hall, but has come to learn that they are not really worth it in the end.
"Coupons seem like a good idea, but at the same time you end up spending more money than you need to spend," she said. "Sometimes it's just better to suck it up and go to the dining hall."