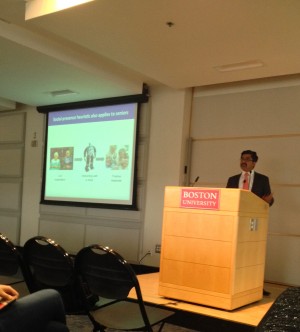 Let's play a game. Look around you and count the number of people you see using a smartphone. Ten points for every person sitting alone scrolling endlessly through different social media platforms. Would you say we are attached to interactive media? Obsessed? Addicted?
On Thursday afternoon, the Dr. Melvin Defleur Distinguished Lecture Series continued with a presentation titled "Interactive Media Effects on Psychology" by Dr. Shyam Sundar, a distinguished professor/co-director of the media research laboratory at Penn State University.
Professor Sundar began by presenting a few of the studies he conducted, introducing the concept that interactive media has fully infiltrated our lives. While we can all agree that social media has taken over our day to day routines, Sundar posed the question of why? What makes it so seductive?
Through his various studies (from assessing "coolness" of interfaces to a talking tissue box), Sundar has determined that interactive media is enticing because it allows us to maintain creative control over our identities while also relieving feelings of social anxiety. We've all been there. Sitting alone in the dining hall staring blankly at Twitter feeds and Tumblr dashboards, basically screaming, "Look at me, I have friends….they're just not here right now!"
Professor Sundar explored the notion of "self agency," which is the concept of self promotion and curating your own image on the Internet. Social media, he stated, "is a pulpit from which we can broadcast." Using Twitter as an example, Sundar brought up the absurdity of having thousands of "followers" and challenged us to imagine this in actuality. At its very core, social media fills the age-old, teen angst void associated with not being heard.
An energetic and clear speaker, Sundar posed thought provoking questions to the audience, who represented a conglomeration of COM students, psychology majors, and all those with an interest in media. Above all else, the professor made it abundantly clear that he had no hidden agenda. He wasn't there to pass judgement on whether or not all of this media use is beneficial or harmful to society, but rather to simply present an objective view of the technology.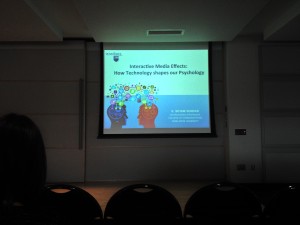 In the Q & A session following the lecture, professors and students in attendance delved further into the individual studies that Sundar conducted. Fielding inquiries with respect and intellect, Sundar was not afraid to admit that there were some questions that he could not answer. He used his studies as a foundation and challenged the audience to consider the implications, whether positive or negative.
The most interesting part of the lecture, according to junior Noelia Valero (COM '15), was how it, "reinforced, from a psychological standpoint, our need for validation in terms of 'likes' and 'views' and how at the end of the day, we have all of this technology available to us, but it matters how we choose to use it".
 The Dr. Melvin L. DeFleur Distinguished Lecture Series annually invites distinguished scholars from outside BU to share their outstanding scholarship, expertise, and experience with the BU community. More info can be found here.