Whenever I walk away from an interview with a BU staff member, I ask myself what stood out the most about the person. With Sarah Hemperley, security guard at Kilachand Hall, the takeaway was simple: Sarah doesn't take shit from anyone or anything. If I could say that more eloquently, I would. But, hey–when it comes that instantaneously, I try not to convolute it.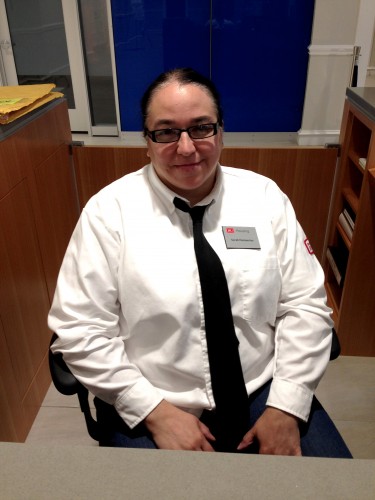 Sarah, a native of Canandaigua, New York, is married to Jeff Hemperley, a BU employee in the Facilities Management and Planning department. They met online. "It was early Yahoo! chat forums," she recalled. "My friends at work would go at night and just chat about … you know, stupid stuff." Her husband attempted to talk to her in a chat room, and she was wary and rejected him a few times. "He's kind of like that. When he thinks something's okay he just keeps going for it," she smiled. They married on a Friday, packed up their things on a Saturday, and moved to Boston on a Sunday.
But it was hard for her to let her guard down. Sarah admitted, "I am a very independent person. I love my husband, and I married him for a lot of reasons. He's a real gentleman. He likes to do a lot of things for me." Hesitantly, she said, "Sometimes that bothers me, because I'm that person [who] likes to do everything for myself … but I'm still growing. I have to say, 'Well, I can put up with a guy [who] wants to do stuff for me.'" She laughed at the incongruity of the statement.
This fierce independence was instilled in Sarah early on by her father, a World War II veteran and father of three girls and a boy. "He had this huge respect for women," she recalled. "When he was growing up, women had a place. They could not do certain things–didn't matter if they were able to, they were not allowed to," she explained. "He said his daughters were going to know just as much as his son."
So for Sarah, "everything was a learning experience. If he had to change the oil in his truck, we were there," she recalled. "He'd drive us to see friends that were 40 minutes from our house, and he'd say, 'Pay attention. On the way home I'm going to pick one of you and you are going to get us home.'" Sarah considers him the most influential person in her life.
Surely as a result of that upbringing, Sarah is constantly furthering her learning. She studied Psychology at Rochester Institute of Technology, but does not discriminate in her current studies by field. "Last year, somebody tossed an anatomy textbook in that book drop they put out at the end of the year, so I picked it up," she told me. I asked if she likes literature and she scoffed, but then explained upon catching the sadness in my wannabe-writer face: "I can respect your love for it, but I don't like to deal in anything but reality. I appreciate that people write these books and millions of people love to read them. That's awesome. But I can't."
Though my first takeaway about Sarah is simple, it is impossible to ignore the layers in her character and how they affect her personal relationships. As long as I've seen her on campus, Sarah has crowds of students around her, engaged in conversation. She is loyal, honest, and as protective of the students who call her building home as she is of her own son, who is now twenty-six and whose birth was the happiest moment of her life. "I'm a healer–mind, soul, heart … the whole thing. I want you to be okay," she said.
Her suggestion for students to work toward being okay is this: "You don't have to be narcissistic, but you have to like yourself." With sadness she told me, "I see both girls and guys being used by others all the time. It's because you have got to love yourself. Respect yourself. And each other."
Wise words from a strong woman.