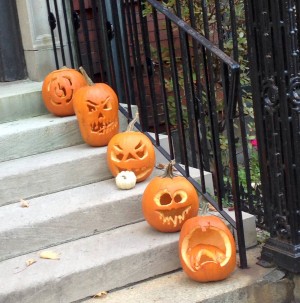 Halloween is quickly approaching, and even though you've been telling your friends you "haven't even thought about" what you're going to wear this year yet, we know that you've secretly been coming up with costume ideas since mid-July. The problem is, though, that you just have so many great costume ideas and not enough places to wear them all. Your go-to Allston Crawl just won't cut it this year when you have big dreams of being Kate Middleton, a wrecking ball, Gretchen Weiners, a green monster, Lorde, a sexy sailor, a honey badger, Psy, Ted Cruz, the @BUDiningService guy, a loofa, and North West all in one week.
Luckily, we've got you covered. We've rounded up all the awesome Halloween events happening around campus this week, so you can totally maximize your costume-to-party ratio this  year. Assume any time gaps in this daily play-by-play are for changing costumes and recovering from sugar crashes. Click the links for full event details!
Friday, 10/25
CSC Pumpkin Palooza—11:00 a.m. @ BU Beach


Come to the BU Beach to paint and carve pumpkins to be donated to different shelters and community centers in the Boston area. Student group Face AIDS will also be providing baked goods and accepting donations for Community Health Workers in Rwanda.

Boston Zombie Walk—6:00 p.m. @ Boston City Hall Plaza

Dress up as either a zombie or an apocalypse survivor and join Boston's annual Zombie Walk! 21+ afterparty to follow.

Chi Phi Haunted House—7:00 p.m. @ SAC Gym


From twisted clowns to horrifying skeletons and zombies, Chi Phi promises to deliver an experience that will keep you up at night. This year will feature a torture theme as well as a professional make-up artist. $5 donation suggested; all proceeds go to the Boys & Girls Club of America.

BU Central Halloweekend Night 1 – Rocky Horror—9:00-11:30 p.m. @ BU Central

Stop by BU Central for bobbing for apples, a costume contest, and a make-your-own caramel apple bar. Among the costume contest prizes is a pair of tickets to see Macklemore & Ryan Lewis! Then, at 10 p.m., they will be showing the "Rocky Horror Picture Show" in BU Central with free prop packs and classic audience participation.
Saturday, 10/26
CSC Siblings Trick or Treating–3:00-5:00 p.m. @ Bay State Road

Adorably costumed kids in the CSC Siblings program will be trick-or-treating down Bay State Road, so if you live there, ask your RA for RHA-provided candy to show them the love!

JSA Haunted House—6:00-11:00 p.m. @ South Campus RHA (518 Park Drive)


Every October, the Japanese Student Association hosts a haunted house event at South Campus RHA (518 Park Drive). Stop by to get spooked!

BU Central Halloweekend Night 2: 2AM Club–9:00 p.m. @ BU Central

The American band "2AM Club" brings together a diverse array of genres, including hip-hop, rap, electro, rock, and alternative. Their debut album, "What Did You Think Was Going to Happen?," was released in 2010, and their US tour included playing with Big Sean, Chiddy Bang, Mike Postner, and Far East Movement. Free show with your BU ID!
Sunday, 10/27
SoWa Dia de los Muertos—11:00 a.m. @ 140 Harrison Ave, Boston

This 10th Annual Market of the Living Dead in SoWa seems like so much fun! Come wearing your best Dia de los Muertos outfits/makeup and prepare to win some awesome prizes. Registration required.

Part of CFA's Annual Fringe Festival, this a one-act play features a two-headed "pig beast" ravaging the Louisiana countryside. A terrorized mother summons Slim and his sidekick, Shadow, to slay the Beast. Free with your BU ID. Don't miss your last chance to see this!
Monday, 10/28
Halloween Pumpkin Painting and Costume Contest–8:00-11:00p.m. @ Danielsen Hall


Paint pumpkins and show off your favorite costumes with the Danielsen Hall RHA!
Tuesday, 10/29
Sex in the Dark–Glow in the Dark–7:00-8:30 p.m. @ CGS

A panel of BU sexperts will answer students' "scandalous" questions about sex and relationships. The Q&A will happen with the lights off, but they'll light things up with free glow-in-the-dark swag like shutter shades and condoms! This event's not strictly Halloween-based, per say, but if you're afraid of the dark and/or your sexuality, this one could be pretty spooky!

Warren Towers RHA's Harvest Festival–8:00-10:00 p.m. @ Warren Towers

Pumpkin carving, bobbing for apples, pie walk, and treats! (What's a "pie walk," you ask? Only one way to find out!)
Wednesday, 10/30
Trick-or-Treat Around the World—2:00-5:00 p.m. @ Howard Thurman Center

Come to the HTC to indulge your sweet tooth with treats from around the world! They'll be giving out international candy all afternoon, so come get your share.

ZBT MasqueRAVE—9:00 p.m. @ Estate
Thursday, 10/31
Trick-or-Can—4:00-6:30 p.m.

A great way to give back while staying in the Halloween spirit: Trick-or-Can is an event hosted by BU Student Food Rescue in which non-perishable goods are collected from local residents to be donated to the Boston CANshare Food Drive to help those living with hunger. Students go to communities surrounding BU dressed in Halloween costumes to collect canned and dry goods. (You need at least three people for a Trick-Or-Can Team!)

Boorito—4:00 p.m. @ Chipotle

$3 burritos if you show up to Chipotle wearing a costume after 4pm. Need I say more?

Trick or Treat Masquerade Dance—7:00-9:30 p.m. @ Photonics 9th Floor

Come out to this $5 event for masks, entertainment, and dance lessosn! Sponsored by UNICEF Campus Initiative.

Steve Aoki and Waka Flocka Flame—8:00 p.m. @ House of Blues

EDM superstar Steve Aoki and hip-hop artist Waka Flocka will be at the House of Blues on Halloween! Doors are at 7 p.m. with an 8 p.m. start-time. Tickets are still on sale–they range from $46.80 to $62.25 and can be purchased through Live Nation.
Friday, 11/1
Halloween in November—7:00-11:00 p.m. @ Marsh Chapel

Come to the downstairs area of Marsh Chapel in your Halloween costume and join new friends and old friends to watch a movie, play games, eat food, and have fun.

BU KSA: Halloween Party—9:00 p.m.  (Location TBA)

Join the Korean Student Association for their Halloween party on Friday night. Discounted admission if you're wearing a costume!