When you visit the homepage of the Sustainability@BU website, you'll notice a diagram of Boston University's campus, broken into categories of various sustainability issues. You'll learn that BU uses 18,000,000 tons of water over 17 days, generates 5,000 tons of waste every six months, 31 percent of which was recycled last year, and used 207,000,000 kWh of electricity last year, which is enough to power 44 spotlights seen from space.
If these statistics are not enough to convince you that BU uses a lot of environmental resources to keep itself functioning each year, then consider this: it takes 15,500 liters of water to produce one kilo of beef. That's the amount of water you would use while taking a 1,150-minute shower.
Another scary statistic: 70 percent of the United States' grain goes to feed livestock (livestock that, by the way, should be eating grass instead of grains). Livestock production is also responsible for 20 percent of the world's greenhouse gas emissions.
Taking all of this into consideration, it's no wonder sustainability has become an issue on many campuses around the city. BU is not alone in its quest to save the planet. Northeastern, Suffolk, Harvard, MIT, and Boston College all have their own sustainability programs in place.
Yet, how is one to know that these programs are actually making a difference?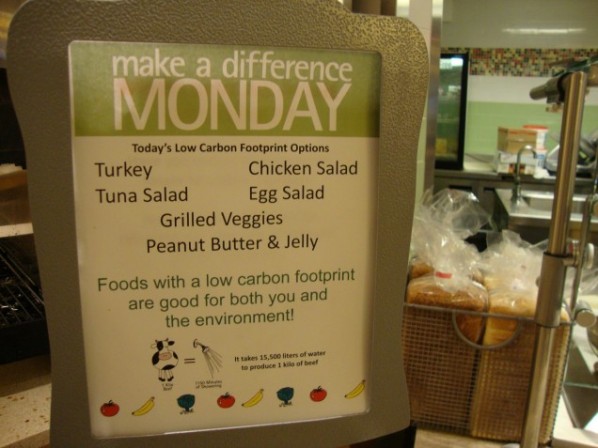 Sabrina Pashtan, dining services sustainability coordinator at BU, has the answer. She is part of the program Make a Difference Monday, which was implemented into the dining halls on campus to celebrate sustainable food and reveal ways in which students can contribute to lowering the school's carbon footprint.
"It's a day that we celebrate sustainable food in the dining halls by showcasing foods with a lower carbon footprint," Pashtan said. "That translates to local, seasonal fruits and vegetables, Fair Trade and organic, sustainable seafood, and more vegetarian and vegan options."
Each month, the dining halls serve a sustainable menu that includes items like organic tofu scramble, turkey bacon, and whole wheat pancakes for breakfast, caprese pizza and Sargent Choice buffalo chicken pizza for lunch, and macaroni and cheese with a three-cheese sauce that features Cabot cheddar from Cabot, Vt., for dinner.
These local foods come from no more than a 250-mile radius and make up for 28 percent of BU's total purchases. BU also supports organic agriculture by purchasing organic food whenever it is available and economically feasible. All coffee served at the dining hall is certified fair trade, and all eggs, minus the EggBeaters and egg patties at Breadwinners, are cage-free. At a time when the seafood industry is hard to navigate in terms of sustainability, BU does its best by following the guidelines of the Monterey Bay Aquarium Seafood Watch and the Marine Stewardship Council, including using sustainable Maine lobster for the school's popular Lobster Night.
Pashtan said the idea for Make a Difference Monday came from a group of students on campus interested in student engagement around sustainable food. The name was the idea of an intern in the Sargent Choice program.
"I think it's important to approach food with an open mind and to consider other factors when it comes to food besides taste, such as provenance, health, and how it affects our communities and our environment," Pashtan said of the program.
On Oct. 17, BU Dining Sustainability hosted a talk about food sustainability at BU in a roundtable discussion fashion, allowing students to share their thoughts on how the program has made a difference in the community.
Students that attended discussed both the best ways to engage students in the sustainability issues related to Make a Difference Monday and how the program can be improved moving forward.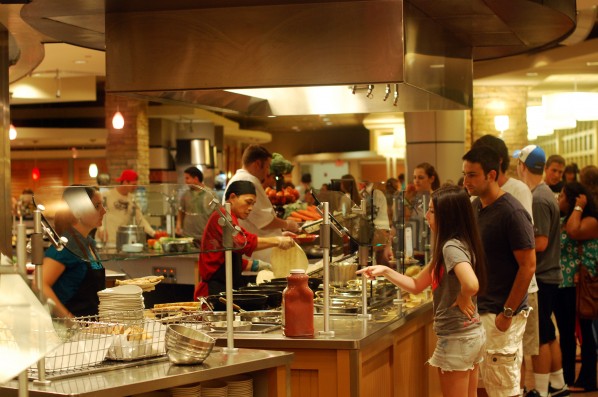 The dining hall menu is generally fish-heavy every Monday as a result of the program, which can be a turnoff for students that are not keen on seafood. However, there are always many other options, such as chicken tomato basil soup or coconut citrus chicken lo mein.
Sustainability programs implemented at college campuses around Boston are only a microcosm for the city's larger sustainability efforts. Slow Food Boston is part of a global, volunteer-run organization committed to building communities through food. Present in over 150 countries, this movement began in 1986 and was founded by Carlo Petrini, an Italian food and wine journalist. Once McDonald's opened on the Spanish Steps, Petrini decided that something must be done to slow the pace of food down.
Slow Foods has over 40 chapters present on college campuses around the country and provides resources for students who want to start their own chapters on campus. BU has its own branch of the movement on campus, though it has not updated its website since August 2011.
Slow Food Boston is not the only group around the city trying to make a difference in sustainable eating. Founded in 1991, The Food Project engages over 150 teenagers and thousands of volunteers in farming on 40 acres in eastern Massachusetts in Beverly, Boston, Lincoln, and Lynn. The food from these farms is then distributed throughout community-supported agriculture programs and farmers markets as well as donated to local hunger relief organizations.
The Serving Ourselves Farm at Boston's Long Island Shelter is a four-acre organic farm that includes two and a half acres of vegetables and herbs, a multitude of fruit trees, and laying hens and an apiary (collection of beehives) on Long Island in the Boston Harbor. Baystate Organic Certifiers has certified the farm organic and recognizes it as environmentally sound and sustainable.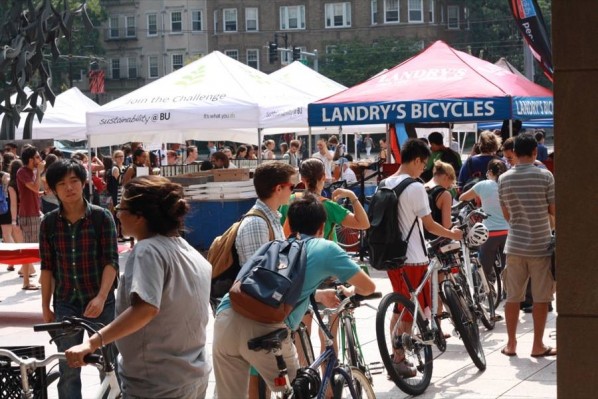 The number of farmers markets around Boston has also exploded to keep pace with the recent popularity of local food. In 2004, Boston had 13 markets around the city. Due to the creation of The Mayor's office of Food Initiatives, the city now hosts over 2o farmers markets in various locations. BU has its own farmer's market on Thursdays during September and October.
Though there are no concrete statistics to measure how much change Make a Difference Monday and other environmentally conscious programs are making, based on these varying groups both in and around campus, as well as the city as a whole, much effort has been put forth to ensure that the world remains a better place for future generations. That seems to be difference enough.