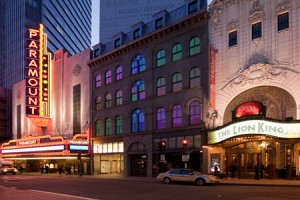 After a few weeks of exploring the colleges and universities across states near and far, it's good to pay a visit to a true neighbor right here in the city of Boston. Tucked away and over by the corner of Boylston and Tremont Street is Emerson College. Aside from the size of the university, Emerson mirrors our very own home here at BU in a number of almost uncanny ways. Maybe it's just an outsider's perspective, and this is purely a subjective opinion, but it sure seemed that way after dashing in and out of campus facilities a bit. From residence halls to dining areas, the small school stands pretty much eye-to-eye with our lengthy, sizable bubble over on this side of town. That's another thing that lends itself to the excitement and attractiveness that I'll go over a bit—the location of Emerson. It's right where you want to be if you're looking for a little downtown fun that's close to everything and seamless in culture.
There's a small personal connection to Emerson that I've held on to ever since the days that I used to become stressed while opening the mailbox after pulling into the driveway…yes, I'm alluding to that faraway dimension that I call the days of high school. While BU was my top choice above all other schools I was applying to, I still had hopes that if things didn't work out, I would at least make it into the city of Boston. That's why I was beyond thrilled when I found out I was accepted into Emerson's communications program—I knew that I at least had a shot at landing in the city that I loved for four years. I also appreciated the little beanie hat they sent…much more functional than a sticker for my rear window. I won't lie and say I've never wondered what would've happened if I'd decided to set up shop downtown instead of next to the river. The location that Emerson is situated in is really the perfect place for young adults our age. I've said it before, and I'll say it again. BU's campus really is a bubble. A long and narrow bubble, but a bubble nonetheless. Emerson's campus is more of a pocket, fitted right in the middle of everything hip and happening in its area. Most of its buildings sprinkle the blocks right across the street from Boston Common, a major attraction for visitors and residents alike—especially now that hints of winter are blowing into town. Sooner rather than later, the Frog Pond will be flooded and iced over, just about ready for skaters both skilled and novice to glide around the rink. Speaking from experience, it makes for a pleasant evening out with floor mates and friends from home.

If you're not exactly athletic or partial to the cold, however, then you may want to head a few blocks over and behind some of the campus buildings and pop into one of the local theatres. There are quite a few, and one, The Paramount, sits right on campus. The Paramount Center and building are home to theatres, a soundstage, screening rooms, a café, and other accommodations. Even though the Paramount is rather far away from the other buildings that comprise the campus, if you wish to see more, then the Cutler Majestic Theatre is a beautiful alternative and also houses many student productions as well as features national tours of hit shows like Wicked and visits from celebrities such as Whoopi Goldberg. If you are indeed headed out to a show, then I personally recommend the Salvatore's located in the theatre district, within immediate walking distance of the Cutler Majestic Theatre. I will say that a reservation is probably a smart idea if you're planning on being seated before shows, as it tends to fill up, but a bite of the layered chicken parmesan is well worth a little waiting.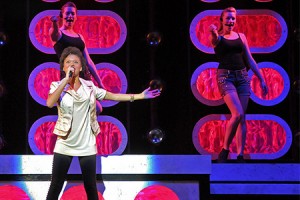 If live entertainment isn't your style, there is a very large AMC Loews situated right in front of the Ritz Carlton and across from Boston Common. Littering the blocks surrounding the area are a number of original and commercial cafés to drop into if it gets too cold or if none of the above attractions suit your interests. I did say I'd mention some parallels and similarities between BU and Emerson that seemed to stick out, and I will follow through with my promise. The Max Mutchnik Campus Center, much like BU's own George Sherman Union, has rooms where students in different groups or organizations can meet, multiple areas to lounge, a nicely furnished quiet lounge, a convenience store—I'll bet the prices are cheaper than CityCo—and a cultural area similar to the Howard Thurman Center. A few of the other buildings on campus include student theatre areas quite similar to our own situated on the side of Agganis, hidden piano rooms that jog to mind an image of the tucked-away Myles piano lounge and finally Emerson's Café, which is similar in appearance to Rize and Late Night Kitchen.
No matter the number of similarities, the differences between the two institutions of higher learning are scattered far and wide and satisfy the needs and expectations of crowds from both sides of town. If you're looking to pop the BU bubble and experience a little more of what Boston has to offer without much more travel than a short ride on the green line, then hop off at Boylston and enjoy a day at Emerson College.