Spaghetti squash was something unknown to me until last summer when my second cousin from Hawaii made it at a family reunion. I had never seen anything like it. It looked like spaghetti, but on second glance, I realized it was actually squash. Yet it tasted richer and more delicious than any pasta I had ever tried.
Spaghetti squash is a member of the winter squash family, but unlike the rest of the members of the family, spaghetti squash contains half the amount of calories that most winter squashes contain. It only has 42 calories per cup and 0.5 grams of fat per cup.
For anyone that is trying to remove pasta from his/her diet, spaghetti squash is a great way to eat a bowl of spaghetti without any of the guilt. When the squash is cut in half, placed in the oven and baked, the insides turn into stringy pieces that resemble pasta. It's very easy to scoop out the flesh and top it with some pasta sauce. Then you have a healthier bowl of spaghetti.
I bought one spaghetti squash and used it for all three of the following recipes. Depending on how many people you are serving and how large your spaghetti squash is, you can use the squash for an entire week.
The hardest part about preparing the squash is cutting it in half in preparation for the oven. My tip is to poke small holes, using a sharp knife, around the squash and then place it in the microwave for a few minutes. This will soften it up and make it a little easier to deal with. Make sure to use a large and sharp knife for the cutting. Spaghetti squash also has seeds, like a pumpkin, that need to be removed before baking.
Now you're ready to try spaghetti squash recipes on your own. As I mentioned, the spaghetti squash I prepared for the dinner lasted me for all three recipes because I was only preparing the dinner for one. I included the full recipe in case you need to serve more, but just cut down on the ingredient amounts if you are only serving one.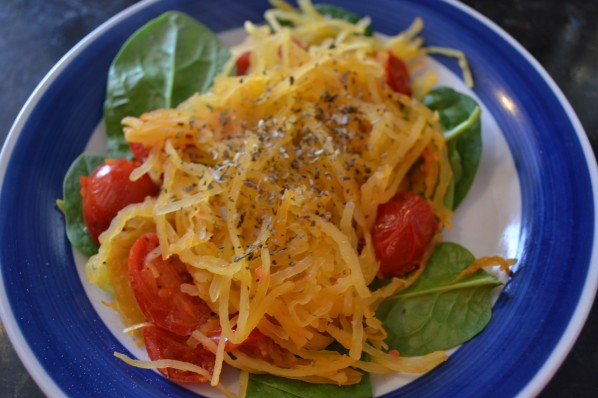 Breakfast
Grilled Spaghetti Squash Hash
Total time: 10 minutes, serves 1
Ingredients
1 1/2 cups cooked spaghetti squash
5 cherry tomatoes, halved
1 tablespoon olive oil
1 cup spinach
oregano, basil and pepper, to taste
Directions
Pour olive oil on a small, nonstick pan over high heat. Place the spaghetti squash in the pan and allow it to cook for about 2 minutes. Add the tomatoes and cook for another 5-7 minutes. Once it has finished cooking, place on top of a bed of spinach and sprinkle with oregano, basil and pepper.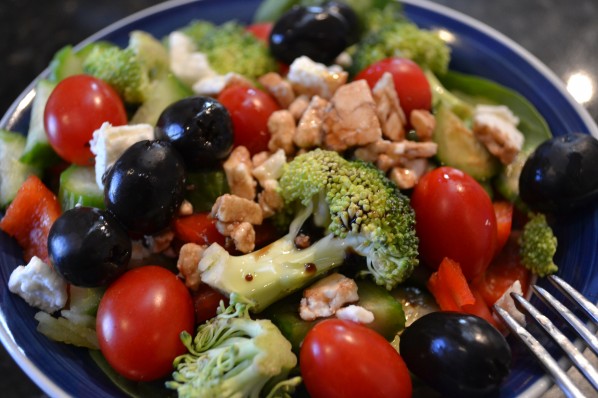 Lunch
Greek Spaghetti Squash Salad
Total time: 5 minutes, serves 1
Ingredients
1 cup spinach
1/2 cup cooked spaghetti squash
1 mini cucumber, sliced
1/4 red bell pepper, sliced
1/4 cup broccoli
1/4 cup olives
1/8 cup crumbled feta cheese
1/4 teaspoon olive oil
1/4 teaspoon balsamic vinegar
Directions
Place spinach in a bowl and top with spaghetti squash, cucumber, pepper, broccoli, olives and cheese. Drizzle on olive oil and vinegar.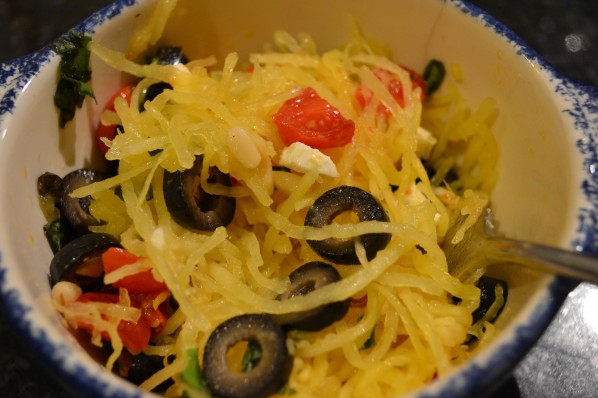 Dinner
Spaghetti Squash Medley adapted from Spaghetti Squash I
Total time: 45 minutes, serves 6
Ingredients
1 spaghetti squash, halved lengthwise and seeded
2 tablespoons olive oil
1 clove garlic, minced
1 1/2 cups chopped tomatoes
3/4 cup crumbled feta cheese
3 tablespoons sliced black olives
2 tablespoons chopped fresh basil
Directions
Preheat oven to 350 degrees F. Lightly grease a baking sheet. Place spaghetti squash with cut sides down on the pan. Bake in the oven for 30 minutes. Once it is finished baking, allow it to cool. While the spaghetti squash is cooling, heat skillet over medium heat. Cook garlic until fragrant, about 2-3 minutes. Then add tomatoes and cook until they are warm. Once the spaghetti squash has cooled, take a fork or large spoon and begin pulling out the flesh, which will come out in strands. Toss the spaghetti squash with the garlic, tomatoes, olives, feta cheese and garlic.